When camping it is easy to overlook the importance of a table.
While the likes of a tent, sleeping bag and portable stove rightly get a lot of attention, the good old camping table is often an afterthought for many. However, as it is one of the most utilised pieces of equipment whilst you are away on a trip, it is definitely worth a bit of thought.
In truth, if you are a novice or once-every-few-years kind of camper, a basic table should suffice. However, if you are a seasoned camper who goes regularly, then you will need something sturdy and reliable to put your stuff on. Which may include the likes of an electric frying pan, food and food preparation items, a stereo, books, a laptop etc.
If you are on the hunt for a new camping tent, then you've come to the right place. In this guide, we will highlight 9 of the Best Folding Camping Tables you can buy in Australia in 2023.
Whether you are after a lightweight model that is easy to transport around with you, one that is height adjustable or something that comes with lots of storage, there is an option here for you.
So let's get started!
Best Camping Tables
Presented below, in no particular order of rank or importance, is an overview of some of the best camping tables on the market right now. All of which would be perfect for your adventures around Australia.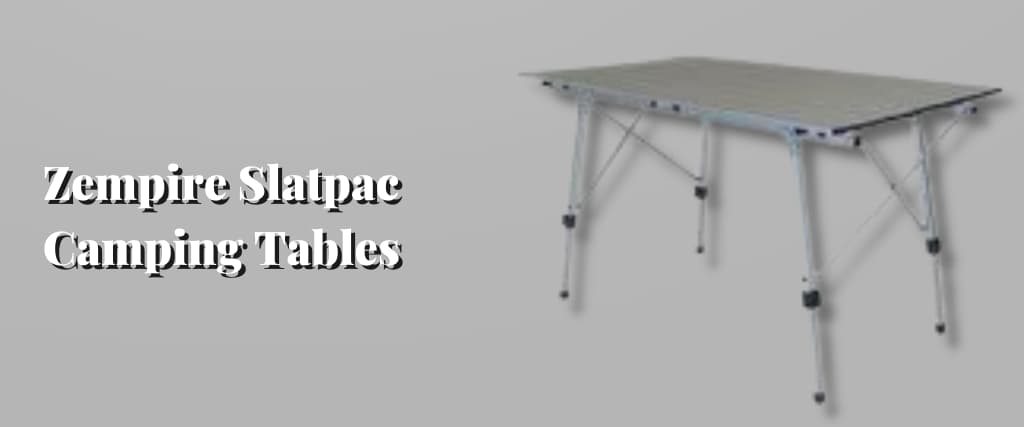 Zempire Slatpac Camping Tables
If you are looking for a good size table that is pretty lightweight and fairly compact to pack away then the Zempire Slatpac Camping Tables are a very good option.
Available in two sizes, either a 120 cm x 70 cm, or a 90 cm x 52 cm, this slat camping table features a very lightweight aluminium frame that is also sturdy and rustproof.
Conveniently, both of these sizes have an adjustable height of 70 cm, and when you are not using it, folds down very compactly, because unlike with other models on this list, the slat table actually rolls up.
This ensures the table is very easy to store in small spaces and also transport around with you. It is also pretty easy to set up as well – all you do is open up the frame and then connect it to the tabletop.
A really clever feature is that each of its legs can be adjusted individually, so if you happen to find yourself on ground that is uneven, you will still have a flat and steady table top.
Made to a very good quality, and to be long lasting, this table also comes with a 1-year warranty.
Lifetime Camping Table
The chances are you will recognise the Lifetime Camping Table immediately. It's those solid, reliable white tables which are synonymous with Bunnings Warehouse.
If you are looking for an inexpensive table and are not too bothered about its weight, or space, then this is always a great option.
Available in a wide range of sizes, these tables are so versatile, that you can use them all around your house and garden, not just for camping.
Made with high-density polyethylene, the very solid tables have a weight capacity which is up to 7 times greater than other models on this list. This makes them perfect for those who are looking for somewhere to rest a heavy BBQ.
This weight, however, can be seen as one of the main drawbacks of this foldable table too. Especially if you have a full load in your car.
But, as the name suggests, the table is so well made, it will last you a lifetime. Which would represent a very good purchase, given how cheap it is.
Coleman Camping Table
Coleman is a popular brand which offers a wide range of camping-related equipment.
Being both large and lightweight, their aluminium camping table is a very good option, as it is also height adjustable and folds down quite compactly too.
Available in two different sizes – 1.2 metres and 1.8 metres – these tables have a strength that belies their lightweight nature. Capable of holding 100 kg, they can be used as anything from a coffee or dining table to a platform to put your BBQ on.
To make it easy to carry, the table folds in half and also has a convenient handle. This makes carrying it from your car to your campsite a breeze. It is also very easy to store and has a pinch-free safety lock, which means the table will not accidentally collapse on you.
Scratch resistant, and made with UV protection, these foldable tables are easy to clean and should last for a long time.
It is not the cheapest table on the list, but if you believe you get what you pay for, then you should be happy with the overall quality and features of this portable, aluminium, folding camping table.
Darche Traka Tables for Camping
Darche is another well-established brand that is renowned for manufacturing very good quality camping gear – which includes tables.
Available in two sizes, the Darche Traka table range features an alloy top which is resistant to heat sources. This makes it very good for prepping and cooking your meals.
Not only will you be able to put your gas cooker on it, but you will also be able to easily clean up any spillages on account of its smooth surface. As it has a steel frame that is heavy duty, you will also be able to chop, slice and dice without any issues.
This Darche table is also easy to pack away too. As the legs simply just fold underneath it, before folding in half itself.
Replete with a handle that is built-in, it also comes with a carry bag, which makes it very easy to store, when not in use. As well as transport around with you when you go camping.
Oztrail Camping Table with Storage
As its name alludes to, the Oztrail Camping Table with Storage is a very good option for those who are after a portable camp table that also has decent storage.
A solid all-rounder of a table, it boasts a length of 1.2 metres, so makes a very good food prep area, as well as a dining table when cooking.
With a weight capacity of 30 kgs there is also plenty of room to store your camping gear, while the table is also height adjustable, so can also be used as a coffee table too.
Made with a robust aluminium frame and an MDF melamine top, this lightweight table also features a fabric pantry tabletop that is situated underneath it.
Constructed from very strong double 300D polyester, it has MDF shelving, as well as mesh windows that facilitate good ventilation for airflow. Whilst also preventing insects or other wildlife from infiltrating it.
There are also a couple of extra storage pockets at the end of the table, which is great to put things in that you might want to access regularly.
When not in use, the table can easily be folded in half. Safety clips also keep it together, while a built-in carry handle makes it very easy to transport with you.
Wanderer BCF Camping Tables
If you find that limited storage is a problem with your camping set up then the Wanderer BCF Camping Tables could well solve two issues for you at once. Namely somewhere to put your kitchen items and somewhere to eat off too.
Measuring 1.2 metres in length, this table provides you with plenty of space to put things on. At a touch under 8 kg, it is far from lightweight and only has a weight capacity of 30 kg. So you will have to be careful what you put on it. But given its aluminium frame and decent storage, it still represents a good option.
The standout feature of this aluminium camp table is the hanging storage that is located underneath it. To keep your items safe, the cupboard features a zippered mesh front, which ensures insects or other wildlife won't get into it.
At the end of the cupboard, there are also several pockets, which are great for storing items like your phone, sunglasses or sun cream. While the table also folds in half which makes it easy to transport and store, and also has an adjustable height as well.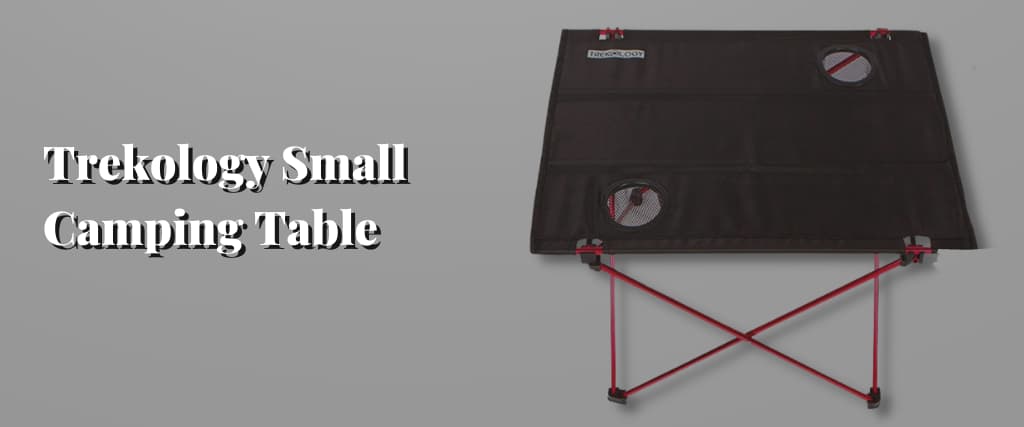 Trekology Small Camping Table
If you are looking for something that is compact and very lightweight then the Trekology Small Camping Table could well suit.
By far the smallest table on this list, it measures just 40 cm in length and only weighs just under 1 kg, so is very easy to transport.
Despite its diminutive size, at just 32 cm high and with a weight capacity of 14 kg, it is actually quite a robust camping table. Featuring a tabletop and frame that is constructed from aluminium, it also has rubber feet to help to keep it securely in place across various terrains, including mud, grass, concrete or sand.
The Trekology table rolls up, while the main table frame collapses down, which makes it very compact and lightweight. Both can be put in the accompanying carry bag which makes it easy for you to transport to your campsite if you can only reach it by hiking or kayaking.
Given its small size, this table will not suit all campers. But if that doesn't matter to you, and you are after something collapsible and easy to transport, this one is a solid choice.
Kings Aluminium Camping Table
If you like the idea of a roll-top slatted camping table, but still want it to be a decent size then the Kings Aluminium Camping Table should fit the bill.
Boasting a length of just under a metre and a standard height, this table comes in two pieces – the roll-up tabletop and the frame.
It features an alloy frame that is powder coated and collapses together in the same fashion as a camping chair or gazebo does. While the aluminium tabletop just rolls away. These pieces both click and lock easily into place and can fit into a stylish and compact carry bag when you are not using it.
Weighing just over 5 kg this slatted, aluminium camping table is fairly lightweight and once you have packed it away, the table can easily fit the boot of the car without taking up too much space.
Made to a very good standard, this table is appropriate for solo travellers, as well as couples or families. It also is fairly inexpensive as compared to other camping tables, so it would suit those who are new to camping or don't go all that often.
Wanderer Camping Table
The Wanderer camping table is another decent choice for those looking for an all-rounder for their next camping trip.
A good size table which is compact and lightweight, this table boasts a strong aluminium frame that helps to make it very durable.
With a weight capacity of just 30 kg, you won't be able to fit a BBQ on it. But it is perfect for prepping food, eating meals off it or resting things like books and a stereo off it.
The table has the capability of folding in half when you are not using it, and at just 4 kg it is pretty easy to carry, store and transport.
Unlike others on this list, the table is not height adjustable. However, if this is not an issue for you, then you will be pleased with the overall quality and longevity of this model.
Conclusion
So there you have it! Our review of 9 of the best folding camping tables you can buy in Australia in 2022.
We hope this overview has given you a firmer indication of which of these models will best suit your needs on your next trip away
Camping is a ridgy didge Aussie experience. So next time you go, having any one of these will ensure your experience is that little bit more enjoyable.