For many people, happy hour is their favourite hour of the day.
Whether you are going to attend a virtual event or a physical event, sometimes you need a little inspiration to make the evening go well.
Need an awesome happy hour team name? Don't worry, we've got you covered.
Trying to figure out an exciting theme for an event you are hosting? Yep, we've got your back there too.
Want an inspiring caption to post to your Insta page? We've even got that down pat too.
In this guide, we'll give you 91 clever and creative Happy Hour names for any fun occasion, which hopefully will provide you with lots of great ideas.
So let's get into them!
Best Happy Hour Names
Hosting a happy hour event at your bar, club, pub or even the office? Well, these names are sure to pique people's interest in what you have got planned.
It's Happy Hour again
It's 5 O'clock Right Here
No Champagne, No Gain
Lime, Salt, & Tequila
Three Martini Lunch
30 Rack City
Shots Only
No Way Jose Cuervo
The Nightcaps
Shaken Not Stirred
Bloody Marys
Light Beer Only
Wine o'clock
Beer o'clock
Nothing but a good time
Highballers
Welcome To The Jungle Juice
Pint-Sized But Mighty
Happy Hour Team Names
Entering a pub quiz or trivia contest? Or maybe you just want a cool group name for your next drinking sesh?
Whatever your reasoning, here are some fantastic team names to adopt.
Sometimes the best team names have a bit of sauciness or innuendo to them. Other times they are based on an inside joke or a shared experience.
Then there are those team names that just seem to accurately convey your collective personalities.
However you choose your moniker, here are some suggestions to mull over.
We're Googling Everything
The Pub Crawlers
The Drunken Sailors
Team Blackout
Cunning Stunts
Universally Challenged
Fireballers
The Eggheads
Tequila Mockingbirds
Know it Ales
You Booze, You Lose
Molotov Cocktails
Only Here for the Beer
We Don't Know Anything
The Golden Girls
Big Fact Hunt
Let's Get Quizzical
The Quizzards of Oz
The Three Must Get Beers
The Fish Tanks
Party Rockers
Not So Great Expectations
No Wrong Answers
Comfortably Dumb
Did We Miss Happy Hour?
Last Place Or Bust
What Is "Happy Hour" For 200 Alex
Win Or Lose: We Still Booze
We Cheer For Beer
Artificial Intelligence
Simple Minds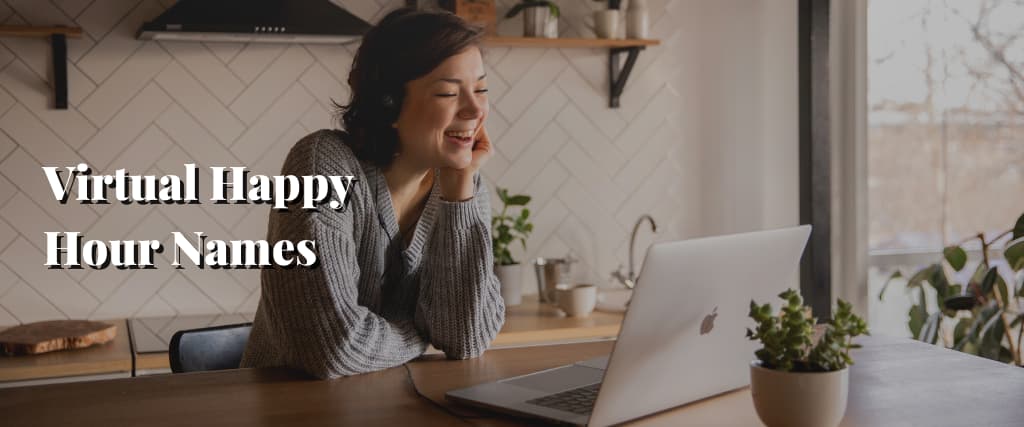 Virtual Happy Hour Names
Planning a virtual happy hour event?
These cool names can help you plan a fun occasion around a creative theme which will linger long in the memory of everyone who takes part in it.
If you already have a theme in mind, then this represents an awesome opportunity to adopt some cool happy hour names to really give the event some personality.
Virtual Cocktail Hour
Let's get drinking!
Let's get to know each other better
Zoom University Meet N' Greet
Cat/Dog Filters Only
Question Time!
80s Party
Virtual Lunch N' Chat
Online Van Gogh Night
Truth or Dare
Virtual Cinema – Netflix & Chill
Yes or No
The Big Game (Online tailgate party)
Rick & Morty Science Extravaganza
A Question of Sport
Sip & Snacks
Never have I ever
Can You See Me?
Quick Tip: To kickstart proceedings, be sure to tell people a few funny jokes to get them laughing. Or ask them a thought-provoking, open-ended question to break the ice and induce conversation amongst the rest of the group.
Happy Hour Captions
Want to post how much fun you are having on your socials? Then why not adopt any of the following phrases.
'Time for a beer or 5!'
'I wouldn't say I am a social drinker. Most of my drinking is work stress-related!'
'My favourite hour of the day!'
'It's starting to look a bit like cocktails!'
'I love Thirsty Thursday, on any day of the week'
'Keep calm and enjoy happy hour'
'We don't need to drink, but it helps'
'Finish your day fabulous'
'Win or lose, we still booze'
'Live every hour like it's your last happy hour'
'The drinks were cheaper so I bought more of them'
'Getting my happy on'
'Thank F*** it's Friday!'
'I need a little drinky drink'
'Is it 5 o'clock yet?'
'Darling, every hour is 'happy hour' when you are fabulous'
'I cannot confirm how many chicken wings I ate at happy hour'
'Happiest of hours'
'Happy hour should be every hour!'
'I may not be brave but I have some liquid courage'
'Happy hour drinks. Yep, the marketing worked!'
'I like my happy hour early and often'
'A virtual happy hour is basically a fake bar with real drinks'
'Get your happy on'
Final Thought
So there you have it guys!
Our suggestions for 91 clever and creative Happy Hour names for any fun occasion.
We hope these happy hour event names, team names, virtual happy hour themes and social media happy hour captions have inspired you to adopt one of these names, or better still, create the perfect moniker for your next social occasion.
If it has then you are well on the way to experiencing a terrific evening of fun, laughter and enjoyment with current friends and new ones.