Feeling adventurous? Well, how does a 20-metre crawl through a small cave tunnel sound to you?
Not convinced? Just wait till you find out what you will see when you do it!
Reached via a walking track that you join at Abraham's Bosom Reserve in Currarong, Gosang's Tunnel is essentially a cave system.
Concealed amongst verdant foliage, its entrance is a small hole in the rocks which is easy to miss. Barely big enough for an adult to crawl through, those who have the nerve to do so will eventually come out to a rugged sea cliff.
Once there you are rewarded with the most sensational views of the Tasman Sea, and its pristine surrounds, for as far as the eye can see.
A terrific place to photograph, as well as enjoy a picnic, if you are lucky you might even spot humpback whales on their annual southern migration too, whilst chilling on this rock ledge.
It is a truly amazing, 'pinch me', type of experience, which presents you with a unique part of the New South Wales coastline that most people will never see.
Where exactly is the Gosangs Tunnel located?
The incredible Gosangs Tunnel is located near the South Coast of NSW, not far from Jervis Bay.
To get there you will need to make your way through Jervis Bay National Park and head on over to Currarong, which is located in the Shoalhaven area, with the stunning Beecroft Peninsula.
If you are driving from Sydney, it will take you about 3 hours and 15 minutes to cover a distance of almost 200 km.
Once at Currarong, you should be able to find the tunnel by following the walking track at Abraham's Bosom Reserve.
This track will take you towards Mermaid Inlet, which you should follow until you see the sign to Gosangs Tunnel. You'll know you are approaching it, as there are usually a few people hanging out around the entrance to it.
All up, the walk is around 2.3 km and should take you about 60 to 90 minutes to get from the start of the walking track to the tunnel and back.
Entering the Gosangs Tunnel
When entering the Gosangs Tunnel, one of the first things that will hit you is the howling wind.
It can be quite off-putting at first, but just be mindful that as the wind enters the tunnel from the Tasman Sea it compresses and then grows in strength, before noisily escaping at the end which
constitutes the entrance.
If you are claustrophobic you will probably give the tunnel a miss as the entrance to it is quite low and can only be traversed by crouching down or crawling through it.
However, if you are not put off by confined spaces you will actually find the cave increases in height the further you go into it.
Whilst traversing the tunnel, you should see a crack beneath you. This represents a fracture line on the floor of the tunnel which enabled the cave to start to form, during the Permian Period, around 250 to 300 million years ago.
You will notice that the fracture lines initially are grouted with sand and dirt. However, the deeper along the tunnel you traverse, the wider the crack appears. Eventually, it gets to a point where the gap is so big you can see the ocean waves crashing angrily against the rocks some 200 metres beneath you.
While the gap is still small enough to step over, it is both an eerie and exhilarating sight to behold.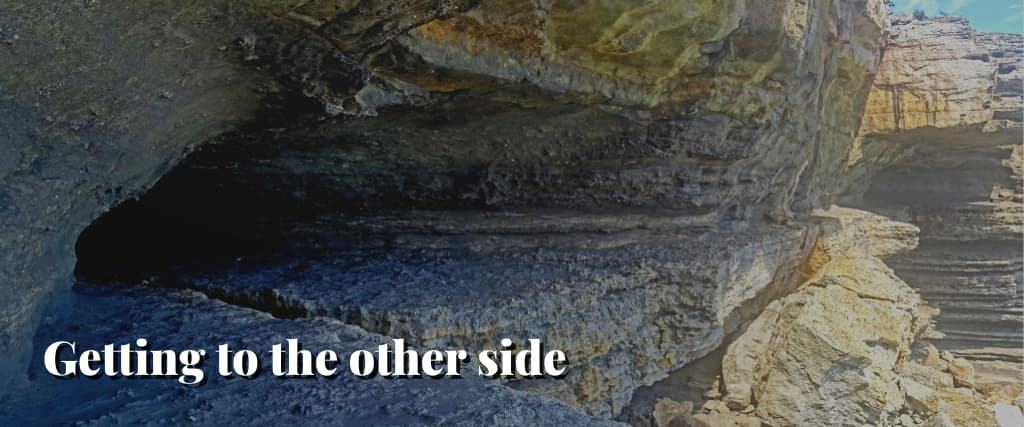 Getting to the other side
After about 20 metres of spelunking your way through the tunnel, you will be able to stand up and really take the time to appreciate the spectacular scenery that will lay before you.
Standing on the ledge of a jagged cliff, with a sheer drop to the broiling waters of the Tasman Sea directly below, you are literally on the edge of the mainland.
From this magnificent vantage point, you can sit for a while and marvel at the stunning blues of the water. You can also spot a wide range of marine life including dolphins, turtles and even humpback whales on their annual migration. As well as plenty of impressive sailboats that swathe before you through the water.
Word of Warning
Please note, that while this is one of Australia's unique geological formations, it is also a very dangerous stretch of coastline as there are no barriers, steps or safety rails. So even though you are on a solid ledge, always exercise extreme caution.
Whilst you are there, it is highly likely you will be the only person or people there. So if tragedy strikes, it is more than conceivable that nobody will be around to assist you.
For this reason, it is probably a good idea not to bring very young children, or your dog here. It is also not the best idea to go alone if you can possibly avoid it.
Quick Detour
After making your way back out to the entrance of the Gosangs Tunnel, be sure to take a detour to Wilson's Beach.
This stunning beach features gorgeous white sand and sparkling turquoise waters, which makes it a fabulous place to swim or sunbathe.
Wilson's Beach is a relatively short walk from the Gosangs Tunnel and you should see a sign indicating the path you should head down.
If you do go there, you may well have the entire beach to yourself.
Where to stay in the region?
If you are planning to visit the Gosangs Tunnel, to experience this wonderful phenomenon, you have a couple of options when it comes to destinations for overnight accommodation.
The Currarong Holiday Park and the Holiday Haven Currarong are excellent options in Currarong, whilst nearby Honeymoon Bay is another good choice.
Around Jervis Bay, there are plenty of other campgrounds you can stay at, including Hidden Creek Campground and the Green Patch Camping Area.
Both of which make great bases to visit the Gosangs Tunnel on a day trip.