Anyone who goes camping regularly will tell you how important it is to get yourself a good quality sleeping bag.
If you don't have one, those chilly nights by the beach, or up in the hinterlands, can be a real test of your resolve when the mercury dips below zero.
Thankfully there are a number of excellent options available for those who like to sleep in the bosom of nature.
Made with different materials, for different temperatures, and in a range of shapes and sizes, they suit all types of camping scenarios.
Whether you are after something lightweight that is easy to carry around, a model that will keep you super warm in the coldest months of weather, or just simply a good, durable all-rounder, there is an option available on the market.
In this guide, we will showcase some of the most notable of them by reviewing 7 of the best sleeping bags you can buy in Australia in 2023.
So let's get started and find the right one for you!
Best Rated Sleeping Bag Reviews Australia 2022
Outlined below, in no particular order, is a selection of some of the best sleeping bags you can buy for camping in Australia at the moment.
Sea to Summit Trek Down Sleeping Bag
Sea to Summit is a well-established brand that is renowned for making a very good standard of sleeping bags.
Offering a terrific range of down tapered styles, they are a good choice for those who are looking for a light down option.
Their selection includes either a -5° or 5° bag, with both being 225 cm in length and 89 cm in width.
Featuring an outer shell that is made of 30D nylon, as well as a lining which is a soft 20D Nylon, they both also possess an RDS 650+ down fill. With the 5° bag having a fill weight of 350 grams and the -5° bag having a fill weight of 700 grams.
At just 760 grams for the 5° version, and 1 kg for the other, both of these sleeping bags are very lightweight too.
They also have some terrific features to keep you warm on those cold winter nights, including the likes of a neck collar, zip draft tube, build in hood with a drawcord and vertical chest baffles which serves to prevent cold spots.
In addition, it also has a sizeable internal zip pocket which is great for storing some of your personal belongings, as well as a separate zipper for your feet which allows them to be exposed during warmer evenings.
The sleeping bag also features anti-snag, full length, two way YKK zippers, which makes it easy to wrap yourself up in or get out of.
Although this is a fairly expensive option, as compared to others on this list, if you are searching for a top down model that keeps you super warm in freezing temperatures, then this is a great choice.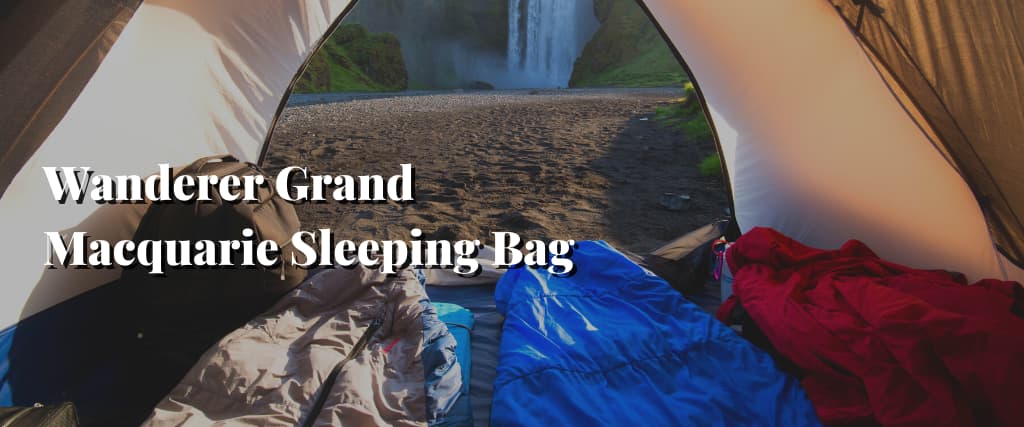 Wanderer Grand Macquarie Sleeping Bag
Looking for a sleeping bag that can comfortably fit two people? Then the Wanderer Grand Macquarie Sleeping Bag is a fantastic option.
Not only does it save you money on having to buy separate sleeping bags, but this double-sized model may also reduce overall carry weight too.
Specifically designed to keep you cosy and comfortable in a wide range of temperatures, this sleeping bag features a cotton shell that also has a cotton lining. As well as an impressive 320 gsm synthetic insulation which is great at retaining your collective heat.
If you get too hot, it also has a separate foot zipper which will allow cooler air to flow into the bag, while its anti-snag zippers should ensure you can both easily get in and out of it.
One of the good things about this bag is that it is machine washable, so it is also very easy to keep clean.
If you are a couple who wants to be able to snuggle up together in one sleeping bag, this is a very good option for you.

Coleman Pilbara Sleeping Bag
Coleman is undoubtedly one of the best camping brands on the market.
Featuring a synthetic 250 gsm hollow fibre filling, their Coleman Pilbara sleeping bag is widely regarded as a very good all-season sleeping bag. It comes with either a -5° or 0° temperature rating option, which will keep you warm even on the coldest of winter nights.
These sleeping bags also have a cotton outer fabric, as well as a flannel lining which has a removable fleece liner.
At 200 x 100 cm, they are one of the largest sizes of sleeping bags on this list and have the ability to be completely unzipped and used as a blanket as well. If it is really cold, you can even zip two of the sleeping bags together to form a double-size one.
For added warmth, the Coleman Pilbara has a snug foot fleece. It also has an internal pocket to store your valuables, as well as a separate foot zipper and a removable flannel liner.
Packing down to around 30 cm x 30 cm, the sleeping bag is not lightweight, although it is not overly heavy either. Like the Wanderer Grand Macquarie, however, it is machine washable too.
FullFlame Wanderer Sleeping Bag
For those looking for an everyday option for hiking, backpacking or camping, the Wanderer FullFlame sleeping bag is a very good choice.
Available as either a -8° or -5° sleeping bag, this lightweight and compact model is very good for cool to warm temperatures. It also has a premium quality 480 gram synthetic insulation which provides excellent thermal warmth in colder temperatures too.
At just 80 cm wide these sleeping bags are a little on the restrictive side for those who like a bit of room. However, they are designed with a slightly tapered shape to keep you warm, as well as a soft ripstop outer shell, and soft brushed polyester lining.
Its contoured hood is something you will really appreciate on cold nights, while its anti-snag zipper and heavy duty YKK zipper are nice touches too.
Darche Cold Mountain Sleeping Bag
If you are looking for a top-notch sleeping bag to keep you warm in colder weather, then the Darche Cold Mountain Sleeping Bag is a very good option.
Available in two different sizes and temperature ratings, they are perfect for those who want a little bit of extra room in their bags.
Taking the form of a large boxy shape, these bags are either -5° or -12°, with the former having a length of 235 cm and the latter 250 cm. Both versions come in three different widths of 90 cm, 110 cm and 140 cm, so can comfortably fit campers of most body sizes.
Although leaning towards the heavier side of sleeping bags, this one comes with an insulated two-layer hollow fibre filling. The -5° bags feature 300 gsm polyester filling, while the -12° bags have a 350 gsm polyester filling.
Both sleeping bags boast a dual zip system, which makes them easy to get into or out of. The cooler sleeping bags also have cotton flannel lining and a canvas outer shell, while the warmer style of bag possesses a silk touch lining, as well as a 70D polyester ripstop outer shell.
One of the best features of this sleeping bag is that they have a hood with a drawcord, as well as a drawcord chest baffle, which you can use to warm yourself up on a really cold night.
This Darche brand also has an anti-snag zip, an internal zippered pocket and a storage compression bag which makes it easy to pack away.
Despite having all these features that provide you with plenty of warmth, these sleeping bags are
very well priced overall.
Oztrail Kingsford Sleeping Bag
For those who just want a cheap sleeping bag that will still do a very good job, the Oztrail Kingsford Sleeping Bag fits the bill nicely.
Offering a range of options, which depend on how warm you like to be, these sleeping bags come as either a -3°, 0° or 5° temperature rating. They also come in an adult size that is 215 cm in length by 100 cm in width, as well as a child's size which is 175 cm by 70 cm.
To keep you warm these sleeping bags have hoods, as well as a polyester lining and outer that is soft touch brushed, which facilitates a really cosy night's sleep. They also come with a chest cuff and have a draft tube sewn into the zipper line which prevents the cold air from getting inside.
Despite their low price, the sleeping bags are of decent quality, quite lightweight, machine washable and tend to pack down fairly compactly.
They are not as durable as other sleeping bags on this list, but if you are not a regular camper then it should last you for a few years.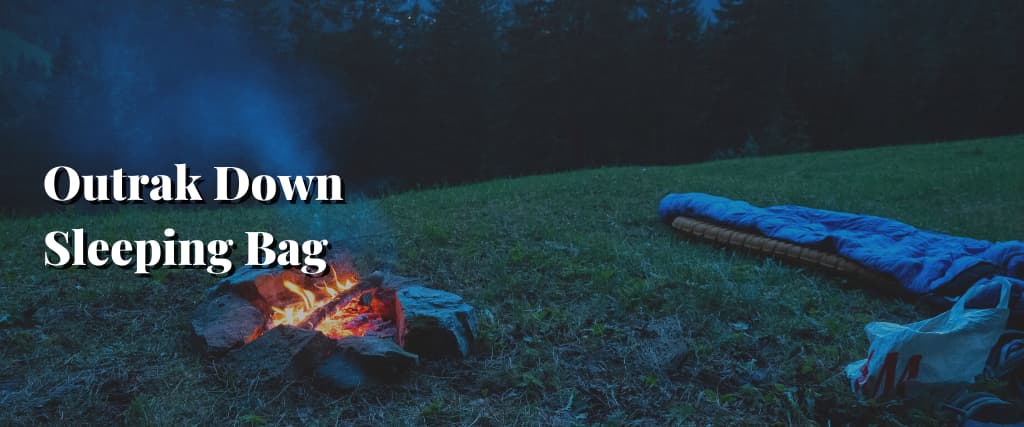 Outrak Down Sleeping Bag
If you are on the hunt for a comfortable, warm and lightweight sleeping bag for your future hiking or camping trips then the Outrak Down Sleeping Bag represents an excellent choice.
One of the best down insulated sleeping bags on the market, this version ensures you stay warm even at temperatures that dip well below freezing.
Taking the form of a 'mummy shaped' bag, you can choose between a -9° or -5° bag that has a length of 220 cm and an 80 cm width.
At just over 1 kg in weight, they are super lightweight and pack away very compactly. They are also filled with a premium 90/10 duck down and, in addition, possess a nylon ripstop shell that is very durable too.
On its inside the sleeping bag features a cosy soft micro polyester lining which helps to keep you nice and warm. It also has strong SBS zippers that come with anti-snag zipper protection, as well as a handy little mesh compression sack which allows you to easily and conveniently store it away.
Conclusion
So there it is! Our guide to 7 of the best sleeping bags you can buy in Australia in 2022.
We hope you have found this review useful in determining the right product for you.
All of them offer a good quality and excellent level of comfort, so whichever one you choose, you can be sure of getting a fantastic night's sleep in a warm and cosy fit.