A person born after the 1980s who lacks knowledge about Malaysians and shoemaking would be excused for thinking they do not have the skill and industry to produce shoes. You might be misled into thinking that Dato' Jimmy Choo, the most successful fashion designer to come out of Penang, was an exception in terms of the amount of effort, tenacity, and resolve required to achieve one's goals. However, this is not the case.
The truth is that he is just one of many outstanding entrepreneurs who came from the sectors that supported the British empire before independence and have come to symbolize the tenacity, energy, and innovation of the Malaysian rakyat today.
The Footwear Industry in Malaysia
Production of shoes has a long and illustrious history in Malaysia, dating back around 100 years. This stands to reason since planting rubber-producing trees as a feedstock for emerging businesses in the West gained economic appeal in the twentieth century.
In fact, by 1921, Malaysia (primarily the Peninsula) accounted for 935,000 hectares, or nearly 55% of the whole rubber-producing area in South and Southeast Asia, with production accounting for 50% of global production.
Up until 1980, rubber remained Malaysia's primary export suitable. Without considering Malaysia's natural rubber sector, you cannot fully understand the history of footwear production in Malaysia. Imagine purchasing shoes without seeing the many available rubber soles!
Many of the founding companies in the shoe industry were small-medium firms that ran out of people's homes and relied heavily on labor-intensive techniques. A few of these industries are still in business today. In the past, Malaysian princes and princesses, members of high society, and the monarchy all wore handcrafted footwear.
The footwear industry and the overall Malaysian economy prospered throughout the 1980s and witnessed the growth of ancillary cottage businesses that provided the sector with various raw materials.
The footwear business produces a broad range of footwear, including sports, designer, and industrial and safety shoes. Local brands including Princess, Larries, Carlo Rino, Bill Keith, Nose, Dr. Cardin, Vincci, and Nottingheels are among the popular brands in Malaysia.
The Malaysian Industrial Development Authority (MIDA) estimates that there are currently 1,000 shoe companies in the country, working with about 30,000 employees. They are primarily found in the Johor, Selangor, and Perak regions. According to 2009 figures, the anticipated yearly manufacturing capacity is 70 million pairs.
Malaysia's "footwear headquarters" is Seri Kembangan, located 50 kilometers outside Kuala Lumpur, the country's capital. As per the 2017 statistics, the value of Malaysia's footwear export revenues was RM652.7 million, with a significant portion of the industry's income coming from the OEM, or original equipment manufacturing company, or generating mass-produced footwear under a global license, for brands like Adidas, Puma, Scholl, Hush Puppies, among others.
Malaysian footwear has become a byword for excellence, fashion, and affordability. With 9.5 billion pairs of footwear shipped in 2019, China has replaced the United States as the world's largest shoe manufacturer since the 1990s. Malaysia cannot match Malaysia on pricing for OEM mass manufacturing because of its cheaper labor and production expenses.
Unfortunately, for the last ten years, Malaysian footwear exports have decreased. The local sector is urged by Malaysia's External Trade Development Corporation (Matrade) to create domestically high-end shoes to remain competitive.
According to Abu Bakar Yusof, general manager of Lifestyle, Life Sciences, and Medical Devices at Matrade, the local footwear developers should imitate Nelissa Hilman or Christy Ng in generating top-quality footwear to help slingshot the country's footwear market globally. An increased value chain of finished goods would be the most global player.
Even as deliveries of the typical footwear products may still come in from domestic and foreign customers, despite a general fall associated with the global pandemic, the small home-based artisans of the iconic shoemakers of the previous century do not even receive much attention from the government.
Dedicated to Preserve Malaysian Heritage
To preserve the history of the Malaysian footwear industry, every pair of shoes is individually handmade in the country. From its very start, Hilman has constantly partnered with various designers, artists, and studios domestically and abroad.
An Overview
A chemical engineer, Nelissa Hilman, decided to leave the corporate world one decade ago. She enrolled in a shoemaking school in Polimoda, Italy, where she truly appreciated the process. She took a one-year internship at a Malaysian shoemaker and established her brand in 2012.
She learned that many entrepreneurs and enterprises had relocated to China then. As a result, starting her brand would make financial sense given the country's affordability and accessibility. And today, the numbers have dropped from three thousand to about one thousand. This means the footwear industry is going down in terms of quality production.
Nelissa realized that it wasn't a walk in the park; it took a lot of stages. She learned to care for many things, like the insole, outsole, and heel.
She said that all these requirements eventually became a more significant challenge for her. Although her background in engineering was helpful, she ultimately realized she had to relinquish some authority. Though she creates handmade footwear, she leaves the manufacturing process to the shoe factory because of their long historical reputation; they have 20 to 30 years of operation and have trusted suppliers.
Soon after Nelissa began operating online, Bangsar Village 2 saw the opening of her first physical store. After understanding the overall shoemaking operation and the regular batch production management, she delved further into the manufacturing process.
She mentioned that she had a natural passion for knowing how things operated: Her previous business role was in renewable technology, heavily concentrating on turning crop waste into valuable products like bio ethanol. She had excellent sustainability and environmental instructors during her college days and later got introduced to renewable energy while working.
When asked about their raw material suppliers and MSDS, she was surprised no one else had asked questions. She said it's not straightforward because many minor players keep their records manually. They cannot communicate in Malay, English, or any other language besides Chinese. They make an effort to provide updated information on their website regularly.
When asked about her cause of inspiration, she responded that since they began the company, they've always hoped to create local products to be in complete authority. She stated that the art of creating footwear in Malaysia is not dissimilar to that used in other countries. Most countries have craftsmanship but lack raw materials.
It was reasonable that she satisfy her interest in an environment that was not immediately connected to the shoemakers' facilities or workplaces. She mentioned they had gotten slightly more shrewd in controlling their sources from the previous year.
In that regard, they have a wide variety of options available. According to Nelissa, she deals with a vendor that imports deadstock material from Italy and China. They import them after creating a collection and are ready to begin production. When it comes to the vendors, they have been quite stringent and have demanded sufficient paperwork.
They were interested in the specifics, such as the proportions of the various materials, and wanted to determine whether they were up to the required level of safety. But when considering standards, they invariably go to the EU. They were thus pleased to see that their product source had specifications higher than the EU requirement, which is excellent news.
After Nelissa followed the trail of investigation, it was instantly evident that there was a gap between the claim and the reality. There is no need to validate or verify if the material presented is hundred percent true since they cannot travel because of the lockdown, and they depend on all information. Because of this, Hilman's company has no choice but to count on the information provided.
Nelissa thought it is not unusual for company owners to have difficulties maintaining openness across their distribution network, especially for micro, small, and medium-sized enterprises. For instance, the outsoles of their shoes are made from raw materials. They work for a public corporation called Kossan, which has its headquarters in Klang, in the Malaysian state of Malaysia.
They seem to use recycled rubber in their sole production, which accounts for ten percent of the total. Their industry's box maker has been supplying the area around Balakong, state of Selangor. Nelissa has never understood why individuals would purchase boxes from China.
Perhaps the reason has something to do with money, but the fact that their business is so small means that it would be absurd to have a truck that's 20 feet long drive in only to carry boxes to the. According to her supplier, footwear boxes produced in Malaysia generally include fifty percent post-consumer recycled content.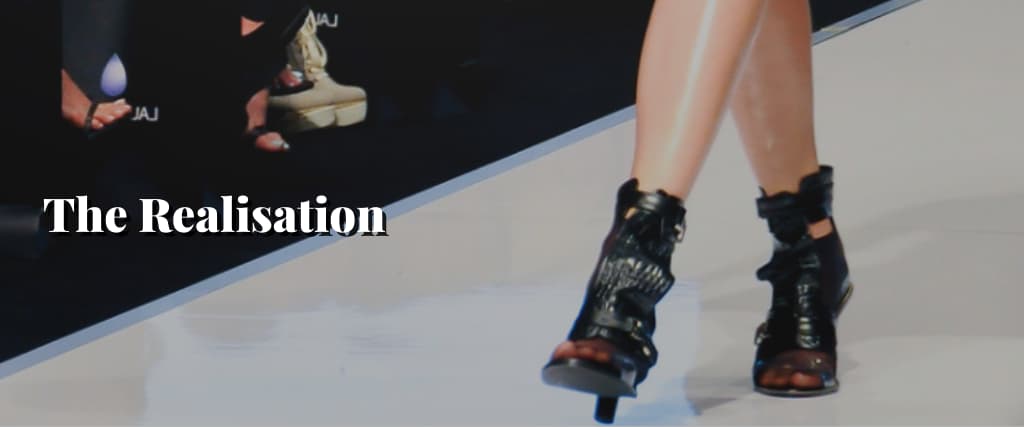 The Realisation
Nelissa explained how an entrepreneur nowadays would find things differently than she did. She had a lot of persistence in testing to find shoemakers who could meet her specifications. Fortunately, today there are companies like Alibaba, making things simpler.
She met with the Malaysian Footwear Manufacturers Association when she started her business. She then realized choosing the best vendors to collaborate with was difficult. The process can take over a year.
When she increased her range, she realized she was making progress toward her larger goal of maintaining the relevance of her art. She added that while she'd want to keep these suppliers in the business, she could only depend on a few. However, they were unable to follow the commands!
Because they have been in the industry for a long time, they have been unable to advance. They also don't have any offspring to carry on that task. In other words, the footwear industry generally doesn't appear attractive; an office does not employ you. Hilman realized she had to continue manufacturing shoes.
There is a rationale for this; albeit larger, more upscale companies could undoubtedly make it appear sexier. They wield a little more authority, so they shouldn't have an excuse, even if it will take some time for them to follow their entire distribution network.
The Selling
Today's consumer behavior also has much to do with learning how goods are manufactured. Nelissa's clients appreciate her imparting this knowledge. She thinks that when anything is manufactured, it has intrinsic value since people often don't realize how many hands worked on it to make it look suitable and fashionable for the user. It takes a lot of work to put anything together and make a product.
She wishes for customs to once again be in the limelight. To honor the history, years of learning, and developing skills. She added that they'd achieved a lot of development in their regional footwear designers. Today, they have many employees supported by the industry devoted to completing all projects. She and her team wanted to present something unique, and now the dream has come true.
Her Direct-to-Consumer skills gave her a market edge. Social media has grown significantly, making it simpler to sell goods. In the beginning, she was incredibly focused on her products, but the truth is that she had no idea what NH would be like in terms of branding or aesthetic appearance.
Social networking is a game for everybody. She at first ran into difficulties with the market. Some online resellers would steal another person's design and sell it for less. She had to ensure that her brand's unique selling proposition was straightforward. Even though her brand was well-known by this point, she had to master the direct-to-consumer route quickly.
She enjoys observing more emerging footwear companies in Malaysia. Customers are gradually making an effort to promote local businesses compared to a decade ago. There are several brands in Jalan Telawis and Bangsar Village. Then there is Pasar Seloka, where you may discover other companies. The level of innovation feeds the expertise in this field.
Nelissa believes that most local companies are becoming more popular today and will be in the future. She's still figuring out how to promote her goods in this industry, and she'll keep helping any local shoemakers who want to get started.
The Price Of A Locally-Made Shoe
Nelissa has had a change in her perceptions of the Malaysian market. The customers are highly engaged; they apply more knowledge when making choices. Stylish buyers are exposed, making it easy to afford more ethical fashion. However, some consumers want to support their brand but can't afford it yet.
Nelissa started the same way since she had no idea about a local brand. She has only ever heard of them as couture or bridal. There weren't many options throughout her business years; Marks, Panini, and Spencer were the leading retailers. Every year, you enter, exit, and make comparable purchases. However, there are now a lot more choices and intriguing possibilities.
She believes that being recognized would benefit regional business owners in all aspects. Even though many companies are on media platforms, many more activities are offline. Individuals who do not use social media can interact with the brand better when it has a physical location.
Local companies can educate consumers more since there is a more significant physical presence. Market stalls, resale, and departmental stores are fantastic locations to start talking about ethical textiles and maintaining the footwear industry's legacy.
But preconceived ideas about the value her items provide present her with ongoing challenges. She explains that there are two categories of customers. Those willing to support local businesses and others are unwilling because they believe the goods are too costly.
She added that not all products are cheap. They must compensate their vendors. Nelissa Hilman's "big name" wouldn't have emerged without them. That's why they don't put a lot of premium on their products.
There is a basic standard for pricing for direct marketing. Advertising, the staff, and innovation all need a lot of investment that the public is unaware of. Their footwear industry produces top-notch goods! They must consider all the necessities present. Fortunately, customers can return to them if they need assistance with the repairs.
She explained that shoes aren't the same as clothing; they may harm you. They wouldn't assert that their shoes are suitable for everyone. However, they are always ready to do all that it takes to engage everyone. Hilman declared that she's not about selling and disregarding her consumers.
Designing a product, looking for concepts, combining them, and hiring people to carry them out needs labor, resources, and time. They keep on talking about innovative design. A lot of items created inexpensively are simply off-the-market designs. You simply order them in various colors and produce them in volume. The expense of craftsmanship is actual!
Constant Development
It takes a lot of materials, including glue, to make shoes, and since they are chemicals, they deteriorate with time and sometimes depending on how the stitching is done. How footwear can be crafted to last longer is a question often asked. Nelissa says that it may only last for five years until it is discarded, or maybe the fashion trend has changed.
Lately, Nelissa and Kloth Lifestyle collaborated on a project named "Future Steps." They never believed it was appropriate to advocate for customers to acquire shoes, given the present economic climate brought on by the epidemic. Their initiative with Kloth to collect used shoes keeps them out of landfills.
Nelissa's company connects to a nearby firm helping in footwear disposal. The application has been around for a long time but has continuously operated in the shadows. Kloth has connected with Malaysia's recycling society, and Hilman would want to support their mission to prevent the landfilling of textiles.
Fashion design has been most prominent in the shoe industry. For a long time, technologies, notably 3D design and materials innovation, have crept into this field. Consider the athletes, ardent runners, and others who wear shoes to boost efficiency.
It's critical to understand that, compared to other items people wear, shoes experience a lot more wear and tear throughout their lives. According to Nelissa, shoes bear much human weight and may be damaged while walking or jogging. It is therefore essential to spend (properly) money on the proper shoes.
Of course, she would want to see more stylish, ethically created shoes that function better.
She knows that the larger companies have substantial R&D budgets and are well equipped to evaluate emerging technologies. They have the money to buy licenses, work with cutting-edge materials, and do other things. Her company has contacted a few organizations and is keeping up with a lot of information in technology and materials.
When exchanging information about a product, particularly on intellectual property, creating materials technology has legal ramifications. Nelissa believes there is potential, but for Malaysia, the main concern is where the money will come from and who will support the sector or us.
She has looked at leather substitutes, such as weaved cactus leather. They have high prices and taxes. Therefore, what stands to reason for the consumer and the company from that perspective? Exploring this area is intriguing, but it also has to be practical from a business standpoint.
Without a doubt, technology may advance humanity, but it is also becoming more commercialized and commonplace. To make that happen, governments and companies need to encourage innovation more to speed up productivity. People should price materials more ethically in line with the resources used in daily life. Because this will provide possibilities for even smaller competitors, people should accelerate the adoption of alternative fuel sources.
Nelissa said that she believes there has to be a legislative requirement stating that a certain percentage of income or resources should be streamed from local artisans. This is a purposefully innovative strategy that benefits the industry as a whole.
The lack of regulation in the fashion industry is not helpful. Nothing must meet a minimal level of quality, unlike when building a home, a refrigerator, or an automobile, which must meet specific emissions requirements. The organization just concentrates on ensuring that vendors are happy. The basic salary for those who work in the fashion industry is nonexistent. There is a lot of work to be done.
Future
Shoemaking has existed in Malaysia for over a century. In the 1980s and 1990s, Nelissa says, their shoe industry was thriving, shipping them to Europe. The working environment was significantly altered when China arrived.
She believes the Malaysian Footwear Manufacturers Association fully understands the sector's difficulties. They have a training center where prospective artisans are trained, contributing to creating awareness. However, the current vendors depend on large purchases.
Many Malaysian brands now have inventory at the department shops. Sadly, they may not have enough money and no revenue streaming in because of the lockdown. It is challenging to sustain the neighborhood "sifu" because there are no purchases. According to a recent study, over 50% of Malaysian companies will shut down if this trend continues. They are not significant producers, perhaps run by families or small companies.
The continuous dedication of their neighborhood shoemakers throughout the years is difficult to fathom. The issue with shoemaking, according to Nelissa, is that it needs a lot of time to master a particular ability.
For instance, stretching demands a skill that requires years to master. Therefore, it will be difficult for the company to replace skill sets and remain competitive if it loses this expertise. They could still have domestic production, but they'll need to make more of an investment if they aim to compete globally. Nelissa wants the footwear industry to continue for at least the next generation.
Besides that, she wants technology to evolve, whether it is with new materials, equipment, or processes that artisans can adopt, making them a fascinating site to produce high-quality shoes for export.
She wants the sector to grow again to the extent it did in the 1980s and 1990s. She detests that some Malaysian citizens are creating footwear overseas, but she accepts it since it's likely more practical.
She discusses how the next era will carry their beading, hand-printing, weaving, and woodworking traditions. Their nation has been losing skilled artisans, songket designers, and so forth. She researched before the lockdowns to know who their batik and sulaman's creators were and who they still had. Unfortunately, she found nobody. She wonders what their people are doing and how they can maintain their professional community.
Nelissa spills over a project she's been working on as she talks about her ambitions for the upcoming years. She wants to create software that will help them discover fresh talent. She has everything documented and is waiting for the perfect time to begin the project.
Her commitment is unshakable. From Nelissa's perspective, sustainability involves battling to pass on their skills to the next generation. She ended by urging their Malay community to work towards that.