A "round chunk of anatomy" is how Belinda Smith often starts her runs.
She speculated that it might be an eye or a butthole.
She starts and finishes her run in the exact location on the map since most of her animals are shown as outlines.
Smith, a journalist for ABC, is regarded as an accidental GPS artist.
In 2013, she was preparing for a marathon by running 20 km. The experience was "very bored" because she had to go through the same route daily.
Smith says, "I was only looking at the map and wondering, 'Where else could I go?'"
"I realized that the Caulfield Racecourse and a few roadways on the upper end of it resembled a cat's head. And I figured, "Oh, perhaps I could make it into a body?"
"Then I did and ran it; I guess that's where it all started."
Smith had no idea what "GPS art" was before 2013.
However, she unintentionally participated in a niche pastime called "Strava art" by jogging a "cat" while connecting to Strava an app.
"Strava art" is a reference to the software Strava, which Smith utilizes to "trace" her running routes, often in Melbourne (northern suburbs).
In line with the name of her blog( animal pun runs), Smith plans her sprints in the contour of different animals and ends each with a funny pun.
She says, "I suspected I was becoming a little strange by putting together all my favorite things—animals, running, and bad jokes.
She soon found out, though, that "artists" worldwide were doing the same stuff. Most people get around on bikes, but a few, like Smith, prefer to run.
Nearly a decade later, Smith finished over 75 animals in many countries.
The Dane Swan from Copenhagen, the Manhattan in New York City, and the Polar Berlin are all great examples of Gps artists.
Smith says she used to run because it was good for her mental health.
However, going on animal runs forced her to use a different part of her brain while working out.
Smith says she is nothing of an artist.
"Since my pencil sketching skills are appalling, this is my creative side shining. I may as well sketch these long runs I do if I'm not good with a pencil."
Smith finds pleasure in putting an animal together as well.
"It's the gratifying sensation you get when you turn a corner and realize something terrific or a hoof. You can almost feel it taking shape in your head when doing it, "she claims.
"And after you're done, "It's a mare!" My horses just got away! ".
However, Smith has to follow some guidelines that complicate her work more than trying to make an image that will run.
First, she keeps her GPS device on the whole time, so she can't go off the planned route, not even when she wants to drink water.
She admitted, "I don't love running with things [such as a water bottle] unless I must, and it's sometimes tough."
"I frequently search for church buildings because they usually have water taps outside. Or, if I see a pipe outside of an apartment, I'll always sneak in."
Additionally, she utilizes the NPTM (National Public Toilet Map) to locate public toilets along her pathway.
And sometimes, she has to find her way around dead ends or hurdles.
"Occasionally, my map indicates I should move in a straight line, yet I can't, and I have to find how to get by without spoiling the picture. I've, for example, hopped over fences a few times."
Smith stays in her neighborhood when she is at home- in Australia. She rarely goes to other areas of the city.
She adds, "There is much to be said for restrictions."
"When the size of your canvas is limited, you are compelled to be a little more imaginative.
"Otherwise, you might feel like there are too many places you could go.
"Furthermore, most of the northern suburbs' streets are parallel or cross each other, so it's simple to make these identifiable shapes."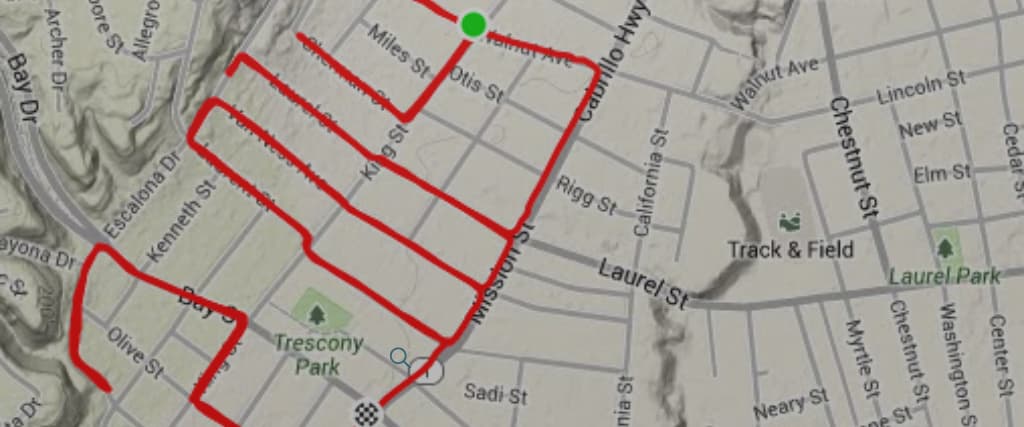 "I've Been to Many Areas in Melbourne Than Many Locals."
Twenty-nine years old Pravin Xeona, from Melbourne, is another excellent example of a Gps artist.
He was born in Kerala, India. A few years ago, he moved to Australia to pursue his master's in IT. Presently, he resides in the CBD and is a front-end developer in one of the best firms in Australia.
Mr. Xeona rides a bike like many other GPS artists. He found the idea on YouTube.
He says, "I thought to myself, 'I can do this. Besides, it'll keep me fit and active and is also creative.'"
"It allows me to create something I could show off to other people."
He first "drew" the Batman sticker. But he asserts that a kangaroo "drawing" is his "masterpiece."
"Everyone loved and praised that one," he adds, adding that the ABC Melbourne team also posted the picture on their social media.
Mr. Xeona makes his art differently than Smith, which is controversial. Smith never switches off her GPS, but Mr. Xeona works on his creations by stopping and starting.
He says, "If you want a perfect line, you can't find a route that looks exactly like the picture."
"But, if there is no way to where I need to go, I end the GPS at one spot and initiate the ride at the next point. After that, the app turns it into a straight line."
When questioned if other people consider this "cheating," Mr. Xeona chuckles.
He says, "Yes, some folks think I."
"And it is, to some extent, fair for them to think so. I used it too much at first because I was after a picture, but I've realized some artists create pictures without ever using it, so I thought I should use it less."
Unlike Smith, Mr. Xeona likes to "sketch" around Melbourne. He has even made a "heat map" that displays all the locations in the city where he has biked.
Mr. Xeona adds, "For myself, it's all about going to new places."
"That's why I like to ride my bike so much. I don't know if I'm telling the truth, but I believe I've been to many areas in Melbourne than many locals."
During Melbourne's lengthy lockdown, he was trapped within a five-kilometer radius, but he says that GPS art came to his rescue."
He even made a piece of art named "Get Jabbed" to encourage more people to get their vaccine shots.
"I couldn't see my friends or even get out throughout that time. So I took time trying to plan routes or just going through other people's artwork to get ideas," he says.
He also connected with GPS artists worldwide, like Christian Ohantel from Germany. The two people decided to work together on a project.
Mr. Xeona says, "I've worked with a lot of people like that."
"And I have a worldwide network of GPS artists, which is cool."
Mr. Xeona loves his hobby so much that he posts pictures on Reddit to get other people interested.
"Every time I share a photo to Reddit, people always ask me, "How did you manage to do that?" "What was the app you used?" So I always try to explain things in depth.
"One thing I like about it is that it lets you link up with many people."