It's nearly as repulsive to think about how intriguing the legacy of trapping rats is. From sewers to sicknesses to affluent rat-fighting companies, rat-catching is a disgusting and dirty activity requiring greater attention.
The story of the rat-catching began some years back in Europe. In a nutshell, there used to be a rat infestation in Europe; therefore, they hired experts to eradicate it. The discipline reached its height in Victorian-era England during the Middle Ages when it was utilised to stop the spread of the Black Death. On the other hand, what ultimately makes the tale of rat catchers so intriguing is how catchers leveraged their reputation as vermin hunters.
Due to various first-hand accounts, diaries, photographs, and sometimes even fairy tales, there is a great chance to learn about the painful work that kept Europe free from disease and tainted food. The thought of being employed to hunt rats remains distasteful given the excellent job of the rat-catchers.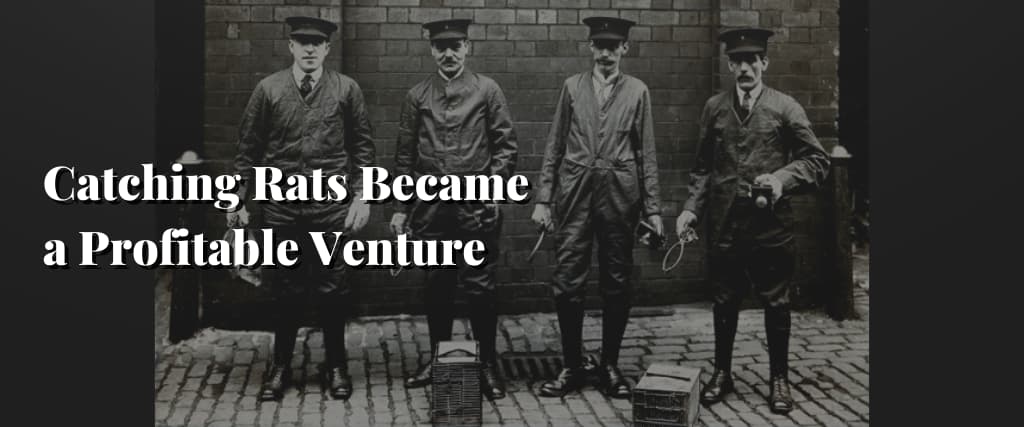 Catching Rats Became a Profitable Venture
Most rat-catchers were uneducated and poor people who thought they could make money by killing the rodents in their neighbourhoods.
Others knew they would have to do much more than just get paid for each dead rat. They didn't crawl flat on the ground to kill the rodents. Instead, they used ferrets and dogs. The most creative rat-catchers would even breed rats to release or sell, increasing their income.
Rat-Catchers raised fancy Pet Rats.
Rat hybridisation increased the popularity of so-called "fancy rats" and improved pay for rat catchers.
Fancy rats were pet rats that affluent Victorians kept in gilded cages. To get attention, Jack Black created bizarrely coloured rats and sent them as gifts to prominent names like Queen Victoria and Beatrix Potter.
Rat-Catchers Helped Rats Become Legal
The popularity of fancy rats grew so much that in 1901, the National Mouse Club began accepting rodents. By 1912, the club was officially renamed the National Rat and Mouse Club.
Over time, rats became less popular, and the group returned to its old name. However, in 1976, the National Fancy Rat Society was created, and these beautiful rodents finally got their deserved attention.
Rat-baiting Becomes a Sport
Even though it seems like collecting rats is the best way for a rat catcher to make a living, few of them have found a more disturbing way to use the rats they catch.
In 1835, Great Britain passed the Cruelty to Animals Act, which banned bulls and bears from herbivore baiting because they used them in blood sports. But because this law didn't say anything about rodents, rat-baiting, which is also called "rat fighting," had become a popular blood sport. People would catch rats and put them in a cage. They would then bet on how long a dog would take to kill the rodents.
This is less fun than selling rodents as luxury pets, but it was a big part of Jack Black's life. He was the one who managed to bring pet rodents to Queen Victoria.
Rat Catchers Were Behind The Big Brown Rats
By the end of the 18th century, a specific type of rodent had moved into the United Kingdom. Brown rats, sometimes called "Norway rats", looked much more significant and scarier than black rats.
This is likely one of the main reasons why there was a high demand for rat-catchers. Who likes it when rats chew on their kids' feet? A naturalist named Charles Fothergill wrote in 1813 that these "grey rats had "greater physical powers." It's not surprising that the poorest people were the ones who caught the rats.
Perhaps Queen Victoria Had A Specialized Rat-Catcher
Due to his presence in Henry Mayhew's book and his admission that he served as Queen Victoria's rat catcher, Jack Black was perhaps the most well-known rat-catcher in the United Kingdom.
Although strictly untrue, this claim had gained widespread recognition, and Black made every effort to demonstrate that he was worthy of the title "royal rat-catcher."
He started dressing ostentatiously to generate buzz for himself and grow his business. As the first known breeder of fancy rats and a significant contributor to the unattractive but lucrative rat-baiting business, Jack Black gained notoriety by offering rat-catching skills to the government.
Rat-Catching Was Primarily A Low-Wage Occupation
Rat trapping, killing, or catching was a dirty job, so most people who did it were considered poor.
After being mentioned in Henry Mayhew's 1815 study of London's poor, London Work and the London Poor, Jack Black became the most famous rat-catcher of his time.
There was a noticeable distinction between those who kept mice as pets in gilded cages and others who dug through the gutters and caught vermin. It seemed that the best at catching rats on floors would be those who had practised it throughout infancy.