For families who love camping, the Tallebudgera Caravan Park is a brilliant place to visit.
Situated with the suburb of Palm Beach on the Gold Coast, the park enjoys a wonderful location, hugging the Tallebudgera estuary, which is a very safe and family-friendly place to swim.
As well as offering an excellent range of overnight accommodation, there are plenty of activities and amenities to keep you entertained around the campground.
In this guide we will showcase them in more detail, so you can get a better idea of why this place is such a popular family camping destination.
Where is the Tallebudgera Caravan Park located?
The Tallebudgera Holiday Park can be found on the Gold Coast Highway at Palm Beach in Queensland.
It is situated directly along the Tallebudgera Creek shoreline, just 300 metres from a surf lifesaver patrolled beach, and directly over the road from the Surf Life Saving Club.
The caravan park is a popular weekend and school holiday destination for families from Brisbane, which is about a 90-minute drive away. As well as residents of the Northern Rivers region of New South Wales.
In addition, it is also about a 30-minute drive from Surfer's Paradise and about an hour from Tamborine Mountain.
Tallebudgera Creek Tourist Park Accommodation Options
One of the best things about staying at the Tallebudgera Tourist Caravan Park is that it provides a wide range of accommodation options to suit all preferences, budgets and styles.
These accommodation options take the form of cabins, rooms and camping sites, which we will outline in more detail below.
Cabins
This is a great option for those who don't really like the idea of staying in a tent.
At the Tallebudgera Creek Tourist Park, there are a number of different types of cabins and other non-camping lodging options available.
These include the following:
Waterfront Cabins
Situated directly on the edge of the water, Tallebudgera offers a number of exceptional air-conditioned waterfront cabins.
Showcasing sensational views of the creek which you can take in whilst chilling on your very own private verandah, you can choose between a two or three-bedroom cabin.
The two-bedroom cabins can accommodate 4 to 6 people and are furnished with a queen bed in the master bedroom, as well as either one or two sets of bunk beds within the second bedroom. The cabins also come with a small kitchen that has a fridge, hot plates and microwave, as well as a bathroom, dining area and lounge room. On the private balcony, there is also a BBQ and table.
The three-bedroom cabins can sleep up to 9 people. They have the same layout as the two-bedroom cabins, except for the extra bedroom which features another queen bed and a single. The bathrooms here also come with a washing machine and dryer, while the kitchen is equipped with an oven and dishwasher.
At the time of writing, the price of waterfront cabins starts from $195 per night.
Deluxe Cabins
If you are a family that likes a bit of space then the deluxe cabins should be just the ticket.
Spread across two floors, with the living area located on the second floor and the bedrooms on the ground floor, these air-conditioned cabins can sleep between 6-8 people in two bedrooms.
The master bedrooms in these Tallebudgera Caravan Park deluxe cabins have a queen bed, whilst the second bedroom is equipped with two sets of bunk beds. There is also a large bathroom between both of these two rooms which features a washing machine and dryer.
The open-plan living area upstairs is bright and airy. It features a lounge room, dining area and a kitchen that provides hot plates, a fridge and a microwave. Some of these cabins also have pull-out sofa beds in these areas where 1-2 people can sleep.
Both levels also have good-sized verandahs that come with outdoor furniture and ceiling fans. The top deck has a BBQ too.
The deluxe cabins will set you back at around $252 per night.
Superior Cabins
For $184 a night you could also choose to stay in a superior cabin.
Showcasing elevated views across the gardens, some of which even provide partial glimpses of the water, these comfortable two-bedroom cabins can sleep up to 6 people.
The master bedroom comes with a queen bed, while the second bedroom has either one or two
bunk beds.
The stylish, air-conditioned cabins are also furnished with a bathroom and separate toilet, as well as a kitchen that includes a fridge, hot plates and microwave.
They also have a lounge room, dining area, ceiling fans and a very nice deck that comes with outdoor furniture and a BBQ.
Standard Cabins
Tucked away behind the waterfront cabins at the Tallebudgera Caravan Park, just a stone's throw from the water, are a handful of standard two-bedroom cabins.
Featuring a queen bed in the master bedroom, along with bunk beds in the second bedroom, these air-conditioned cabins can accommodate up to four people.
It will cost you $164 per night to stay here, and for that price, you will also have use of a small kitchen, that comes with a hot plate, fridge and microwave, as well as a lounge, dining room and bathroom.
There is also air conditioning and ceiling fans throughout the property, as well as an outdoor deck that has a BBQ and a seating area.
Family Budget Room
Priced a little bit cheaper than their cabins, the Tallebudgera Caravan Park also offers two charming family budget rooms.
Starting from $126 per night, each of these rooms can sleep up to 6 people in a queen bed, as well as two sets of bunk beds.
These rooms are also furnished with a fridge, dining table and chairs, TV and a ceiling fan. However, you will have to use the camp kitchen and shared bathroom onsite.
You will also need to bring your own plates, cutlery and cooking utensils too.
Lodging Room
If you are visiting as a couple, the Tallebudgera Caravan Park also provides three lodging rooms specifically for you.
Costing only $86 a night, each of the rooms is air-conditioned and appointed with a queen bed.
The rooms are also furnished with a fridge, table and chairs, TV and a ceiling fan.
Again you will have to share the camp kitchen and a bathroom and will need to bring all your cooking utensils, cutlery and plates.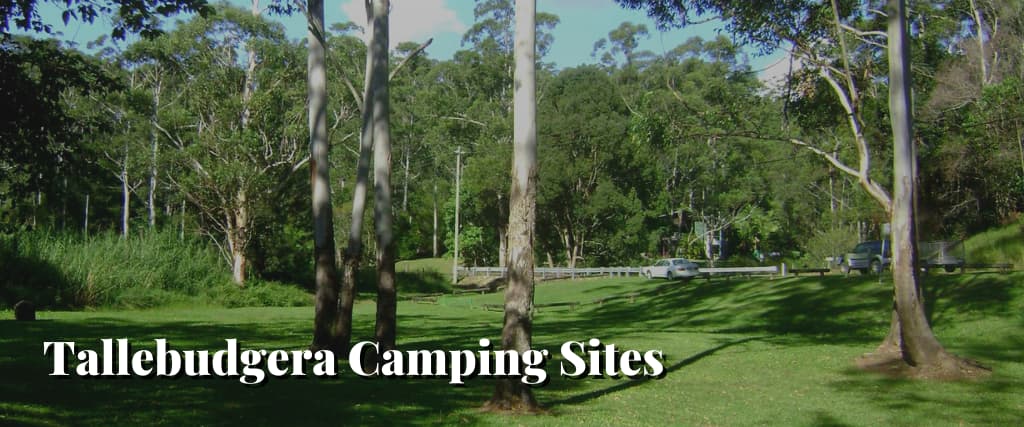 Tallebudgera Camping Sites
As well as the cabins and lodging rooms, the Tallebudgera Caravan Park also offers a selection of powered and unpowered camping sites.
Below are some further details about all of these accommodation options.
Powered Waterfront Sites
Offering wonderful views of the Tallebudgera Creek, the powered waterfront sites here occupy a prime position within the park.
Starting from just $83 a night, most of these 21 sites can accommodate vans that span 30 feet and come with electricity, water and a concrete slab.
Powered Grass Sites
Dotted around the park you will also find several grass-powered sites that will set you back $51 a night.
Some of these sites have concrete slabs and there are also drive-through options available for those with big vans.
Powered Ensuite Sites
Fancy a slightly more luxurious camping experience? Then why not invest in a $69 per night-powered ensuite site?
There are 16 of them available overall, and they do book out quickly. However, if you manage to procure one, you will be fairly close to the waterfront and be on a nice site, with a bathroom, that is also on a slab.
Unpowered Sites
For self-sufficient campers, the Tallebudgera Caravan Park also offers 19 unpowered sites which are only suitable for tent setups.
Most of these sites are located at the far side of the caravan park, not far from the water or the camp kitchen.
These unpowered sites will set you back about $45 per night.
Things to do at the Tallebudgera Tourist Park
There are so many things to see and do around the Tallebudgera Tourist Park, that a family can easily spend a week there without getting bored.
Outlined below is a selection of some of the best of these activities.
Tallebudgera Creek
The main attraction at the Tallebudgera Caravan Park is of course its stunning creek.
Boasting shimmering waters and wide expanses of white sand, this is a great spot for swimming, kayaking, canoeing and SUP.
The swimming takes place in a netted area that is well away from the nearby boat ramp, and there are plenty of shaded spots by it to chill out under.
Swimming Pools
In the centre of the caravan park, you will also find three swimming pools.
One of these is a massive lagoon-style swimming pool which accommodates two small water slides.
Adjacent to this pool is a shallow pool for babies, while an adults-only swimming pool is situated a short distance away.
Playground
At the top of the caravan park, there is a small playground for the little children.
Tennis Court
Close to the playground, also at the top end of the park, there is a tennis court available to hire.
To play on it bookings are imperative, though they are free to make. If you don't have your own gear you can always hire a set of balls and a racket for $5.
Go Carts
The park also has go-carts, which you can hire at a cost of $12 for 30 minutes for a single go-cart, or $15 for a double go-cart.
Other Activities
Generally, on most weekends of the year and in particular, during the school holidays, the Tallebudgera Caravan Park puts on activities like ball games, movie nights, trivia nights and crafts.
It is always a good idea to see what is scheduled on the notice board when you get there.
Amenities at Tallebudgera Creek Caravan Park
The Tallebudgera Caravan Park provides a number of amenities designed to ensure that guests have as comfortable a stay as possible.
Some of the key amenities that are available onsite include the following:
Toilets and Showers
Within the park, you will find two massive toilets and shower blocks.
One of these is situated near the central swimming pool area, whilst the other is out by the waterfront.
These toilets and showers are very well maintained. Although depending on where you are, at the time that nature calls, they can be a bit of a walk to get to.
Camp Kitchen
The camp kitchen is situated in the furthest corner of the caravan park.
It features a microwave, fridge, drinking water, toaster, sinks and picnic benches.
Although it is a decent size overall, it is probably a bit on the small side when you consider how many people are at the camp. So there are often queues to use it.
It is probably a good idea to have your own cooking facilities and not rely solely on the camp kitchen for your meals.
Laundry Facilities
Located in both the toilet and shower blocks is a huge laundry area which features several washing machines and dryers.
There is also a massive outdoor area that houses lots of space for hanging your washing, which is kept out of public view by a wall.
Kiosk and Food Truck
Not too far from the main entrance of the Tallebudgera Caravan Park, you will find an excellent kiosk and a permanent food truck.
The kiosk sells everything from basic grocery items and coffee to sandwiches and ice creams, while the food truck offers some delicious meals.
The food truck operates from Monday to Thursday between 5 pm to 7.30 pm, while on Friday to Sunday it is open from 12 pm to 7.30 pm.
Dump Point
Just outside the amenity block, which is located closest to the waterfront area, you will find a dump point.
Massage
Arguably one of the best features of the whole caravan park is that it has a massage service onsite!
Offering a range of treatments, this is a very popular service which offers a great way to completely relax. But you will need to book a slot to avoid disappointment.
Final Thought
So there you have it!
Our comprehensive review of the Tallebudgera Caravan Park. As you can see the park offers plenty of accommodation options for guests, as well as several amenities and facilities designed to ensure their stay is as fun and comfortable as possible.
We hope this guide has inspired you to make a reservation at the Tallebudgera Caravan Park.
If it has then you will be in for a truly fantastic time!