Since launching in 2016, OnlyFans has emerged as a viable way to make money through your own nudes and X-rated content.
While it was slow to take off, it really started to gain traction when a number of celebrities joined the platform. As well as when the pandemic hit and forced people to look at ways to make extra income.
Today the likes of Bella Thorne, Mia Khalifa and Blac Chyna earn upwards of a million dollars a year through their accounts. While scores of regular folk take home tidy sums out of it every month.
You won't be surprised to discover that most of these are women. However, some men do get good coin from it too.
In this guide, we will showcase the 15 Top-Earning OnlyFans Creators for 2021. Which will also include roughly how much money they made for their efforts.
So let's get into it!
What exactly is OnlyFans?
Before we check out the list, it is worth outlining to those who don't know, just want OnlyFans is.
Essentially, OnlyFans is a bit like Instagram – only unrestricted and subscription-based. It allows high-profile celebrities, influencers and everyday people to post explicit sexual videos and photos they produce and own, on their terms, directly to their subscribers.
Originating from the UK, it was first adopted by sex workers. Although it now features the content of pretty much every variety, it is still seen as predominantly a kind of porn site – albeit one where the people that feature in the video benefit financially.
Perhaps the best way to see OnlyFans is as a members-only fan club. Membership of which gives exclusive access to the content that is not put in the public domain by any given creator. Drawing upon elements of YouTube, TikTok and Instagram, you have your own platform to upload your content. The best of which can be protected behind a paywall.
Creators can also send text-only DMs to their subscribers, as well as pictures, videos or voice recordings.
How do you make money on OnlyFans?
At the moment, creators on OnlyFans can make money via one of the following methods:
Exclusive pay-per-view content
Many OnlyFans creators charge a subscription that can be anywhere from $4.99 a month, all the way up to $49.99 a month.
Although another popular tactic is to offer free subscriptions and then charge for premium content.
This vehicle for making money has led to the rise of the 'porntropreneur'. An increase in the number of people who are basically running small businesses of which they are the brand.
OnlyFans Top Earners
If you are sceptical about how much money can actually be made on OnlyFans, then consider the experience of Bella Thorne. The popular model and actress apparently made $1 million within 24 hours of launching her account!
While she features on this list of the 15 Top-Earning OnlyFans Creators for 2021 she is not even number one!
Want to know where she fits in? And for that matter who is number 1? Then check out this list below.
15. Casanova
We told you men can make money from OnlyFans! And that is exactly what rapper Casanova does.
Real name Caswell Senior, this self-proclaimed 'nympho' had form in teasing fans with X-rated content on Instagram, before switching to OnlyFans.
Although he charges subscribers $25 a month (which has dropped from its former price of $50), he doesn't appear to provide much in the way of nude content – except possibly to private fans.
Age: 29
Occupation: rapper
Location: New York City, NY
Subscription fee: $25 per month
14. Kanri
Also known as Kanri, the internet celebrity Kanricos has developed a really good handle on the art of seductive cosplay down.
Charging subscribers $10 a month, she is another creator who does not offer much in the way of X-rated stuff. However, she is quite adept at leaving little to the imagination.
Should you not want to pay for the privilege, much of her content can also be accessed on TikTok without cost.
Occupation: Internet celebrity
Subscription fee: $10 per month
13. Nikocado Avocado
Nicholas Perry is a Ukrainian-born internet celebrity who took on the name of Nikocado Avocado when he launched his successful YouTube channel.
Initially, he released mukbang videos, which were notorious for their eating challenges. However, he soon became very well-known for his disruptive antics, as well as his outrageous meltdowns.
Should you pay the $14.99 per month to subscribe to his OF account in the hope that you will get more of the same you will be in for a surprise.
Let's just say his over-the-top personality is still firmly in the limelight. But so are literally all other parts of him.
Age: 29
Occupation: Internet celebrity
Location: Florida, USA
Subscription fee: $14.99 per month
12. Belle Delphine
The fact that internet celebrity Belle Delphine is reputed to have earned as much as $1 million in a month from OnlyFans, but is only 12th on this list, should give you a fair indication of the earning capacity of this platform.
Exploring the kinky side of a pixie-girl persona her content is definitely not something you should peruse at work.
Age: 21
Occupation: Internet celebrity, model
Location: London, England
Subscription fee: $35 per month
11. Aaron Carter
The younger brother of Nick Carter from the Backstreet Boys, Aaron Carter is a rapper and reality TV star who has had his fair share of highs and lows.
Despite this, he has a loyal following, and periodically bares everything in exclusive photos for his OnlyFans subscribers – for which he charges upwards of $100 each.
Age: 33
Occupation: singer, rapper, dancer, producer, reality TV personality
Location: USA
Subscription fee: $11.25 per month
10. Jem Wolfie
Apparently, the Aussie influencer and fitness model Jem Wolfie was banned from Instagram for 'lewd content'. (Although she has now been let back in).
So it is a pretty safe bet to assume the videos and photos in her OnlyFans account have some pretty racy subject matter too.
It will cost you a $5 per month subscription to find out.
Age: 29
Occupation: model, fitness influencer
Location: Perth, Western Australia
Subscription fee: $5 per month
Estimated earnings: $900k a month
9. Megan Barton Hanson
Megan Barton Hanson is a reality TV star and British model that has a penchant for showing off her body.
You might have seen glimpses of it on shows like Love Island, however, for more explicit views you will need to pay $24.99 per month to see them.
With earnings of over $1 million a month, it seems plenty of people want to do just that.
Age: 27
Occupation: model, reality TV star
Location: London, England
Subscription fee: $24.99 per month
Estimated earnings: $1.06 million a month
8. Safaree Samuels
Once a partner to Nicki Minaj, both romantically and professionally, hip hop star Safaree Samuels is now married to Erica Mena, who you will find out more about shortly.
Every night he logs in at 9 PM EST for some 'AfterDark Talk'. Which subscribers will have to pay $15 a month to access.
For his efforts, he currently rakes in just under $1.2 million a month.
Age: 40
Occupation: hip-hop artist, TV personality, businessman
Location: New York City, New York
Subscription fee: $15 per month
Estimated earnings: $1.91 million a month
7. Pia Mia
Arguably the most famous thing to come out of Guam, Pia Mia Perez is a singer who launched her career on YouTube.
Now a major pop icon, she also earns over $2.2 million a month on OnlyFans, thanks to a loyal
following of free subscribers, who have to pay to see the real naughty stuff.
Age: 25
Occupation: singer, actress, influencer
Location: Los Angeles, CA
Subscription fee: free
Estimated earnings: $2.22 million a month
6. Erica Mena
The wife of the aforementioned Safaree Samuels, Erica Mena is a former model and TV personality who you might have seen on 'Love & Hip Hop: New York'.
Through her OnlyFans account, she is believed to make close to $4.5 million a month from the videos and photos she posts to her subscribers. All of whom have to pay $25.99 a month to access them.
Age: 33
Occupation: former model, TV personality
Location: New York City, New York
Subscription fee: $25.99 per month
Estimated earnings: $4.49 million a month
5. Mia Khalifa
Mia Khalifa is a former porn actress who turned her attention to OnlyFans.
Creating content that is 'safe for work, but spicy' she offers a number of subscription-based bundles that see her rake in almost $6.5 million a month.
Age: 28
Occupation: influencer, media personality
Location: Miami, FL
Subscription fee: $12.99 per month
Estimated earnings: $6.42 million a month
4. Tyga
Seizing the opportunity to turn a source of potential embarrassment into a major cash cow (or was it all just a clever marketing ploy?), Micheal Ray Nguyen-Stevenson set up his OF account after a leaked photo of his manhood went viral online.
Better known as Tyga, his successful platform sees him rake in almost $7.7 million a month via his exclusive, sexually charged content. Which apparently, sometimes, involves women in various degrees of undress.
Age: 31
Occupation: hip-hop artist, TV personality
Location: Bel-Air, CA
Subscription fee: $20 per month
Estimated earnings: $7.69 million a month
3. Cardi B
Boating well over 101 million followers on Instagram, it would probably be seen as a missed opportunity if Cardi B was not one of OnlyFans highest earners.
Remarkably she makes over $9.3 million a month, despite only having a handful of posts on her page.
The videos she has posted supposedly give subscribers a more intimate behind-the-scenes look at celebrity life.
Whether she increases the frequency of her posts remains to be seen. But it will cost subscribers $4.99 a month to find out.
Age: 28
Occupation: hip hop artist
Location: Atlanta, GA
Subscription fee: $4.99 per month
Estimated earnings: $9.34 million a month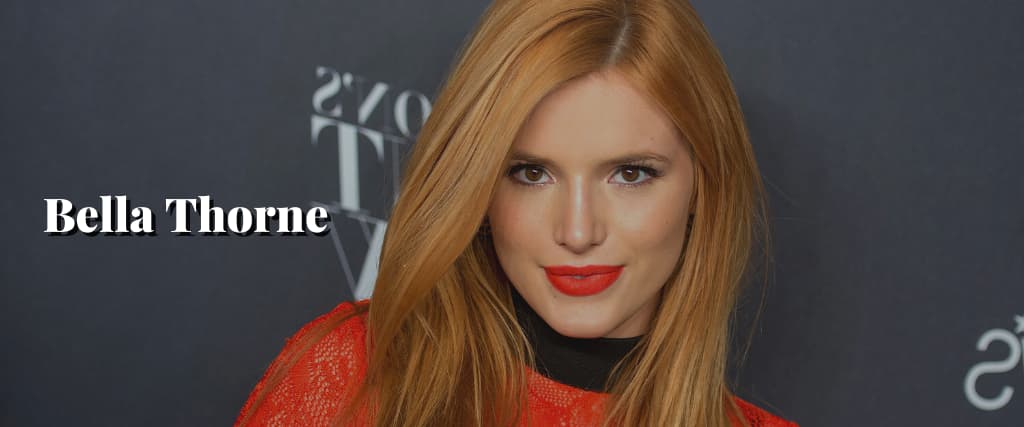 2. Bella Thorne
As mentioned earlier, it was Bella Thorne who really kickstarted the OnlyFans revolution.
The former Disney star who has appeared in Shake It Up, Midnight Sun, Blended and Time Is Up apparently takes home a cool $11 million a month for her page.
After facing initial criticism from sex workers who accused her of 'gentrifying' the site. As well as from subscribers who were upset that she failed to deliver on the nudes she promised, Thorne now has posted some topless photos and videos in recent times.
Currently, she offers free subscriptions and charges a premium for her more adult content.
Age: 23
Occupation: actress, model, singer, influencer
Location: Sherman Oaks, CA
Subscription fee: free
Estimated earnings: $11 million a month
1. Blac Chyna
Earning a mind-blowing $20 million a month, Angela Renée White is the highest-paid creator on OnlyFans.
Better known to you as Blac Chyna, the model, influencer and reality TV star who has had high-profile relationships with Tyga and Rob Kardashian.
Initially, when she started her OnlyFans page she introduced a high subscription rate. Although this has since been lowered to a more reasonable $19.99 per month.
Those who subscribers are privy to exclusive and steamy X-rated content, which includes photos and videos which often have a foot fetish theme.
Age: 33
Occupation: model, reality TV star, socialite, influencer
Location: Woodland Hills, CA
Subscription fee: $19.99 per month
Estimated earnings: $20 million a month
How Much Does the Average OnlyFans User Earn?
While the figures outlined above might raise an eyebrow or two, it is important to remember they are the top earners. But it does beg the question of 'what does the average person make?'.
Well according to Thomas Hollands in a Substack article that was published in 2020, the top 1% of accounts make 33% of all the money accrued on the platform. Furthermore the top 10% raking in around 73% of all the money.
Hollands goes on to posit that more of the top earning accounts make over $100k a month, while what he describes as the 'median' accounts make about $180 a month.
Most make less than $145 per month and often end up losing money when you take into account all the time and effort that goes into creating and posting the content.