Tasmania, the island state, has several places which feature high on many people's travel bucketlist. But one destination that should, yet often flies under the radar, is the gorgeous village of Ross.
Exuding an old-world charm that captivates the hearts of those who venture to its cobbled streets, the village offers a unique blend of history, culture, and tranquillity.
From its storied past as a colonial settlement to the natural beauty surrounding it, Ross has much to capture the attention of tourists. This comprehensive guide will provide you with an overview of what to expect when you go there. So, if you are planning a trip to the Apple Isle, ready yourself to discover such crucial details as how to get there, what to do, where to stay and where to dine. In short, everything you need to know to make the most of your visit.
So, get ready to be grabbed by the undeniable appeal of Ross and discover why it truly deserves its place as a must-visit destination on your Tasmanian adventure.
History and Heritage
The gorgeous village of Ross is a living testament to Australia's colonial past, a place where history seamlessly blends with the present.
Established in the early 19th century as a military post, Ross carries a rich and complex narrative that unfolds through its well-preserved architecture, historic landmarks and the stories of convicts who once toiled on its streets.
The crown jewel of its heritage is the magnificent Ross Bridge, an architectural masterpiece built by convict labour in 1836, adorned with intricate carvings that tell tales of a bygone era. Beyond the bridge, the Ross Female Factory stands as a poignant reminder of the hardships endured by female convicts during the nation's early history.
As you wander its cobbled streets and explore its museums, you'll embark on a journey back in time, unravelling the layers of history that have shaped this charming village into the cultural treasure it is today.
Why Visit Ross?
There are several compelling reasons to visit Ross in Tasmania:
Historical Significance: Ross is a living testament to Tasmania's colonial past and its well-preserved architecture offers a glimpse into the early days of European settlement in Australia.
Natural Beauty: Surrounded by rolling hills and meandering rivers, Ross is a paradise for nature lovers. It's an ideal base for exploring Tasmania's beautiful landscapes.
Culinary Delights: Ross is famous for its bakery, serving delectable pies and pastries. It's a must-visit
for foodies.
Serenity: The village's peaceful atmosphere and friendly locals create a relaxing and welcoming environment for visitors.
Now that you have an introduction to Ross, let's dive into the details of planning your visit.
Getting to Ross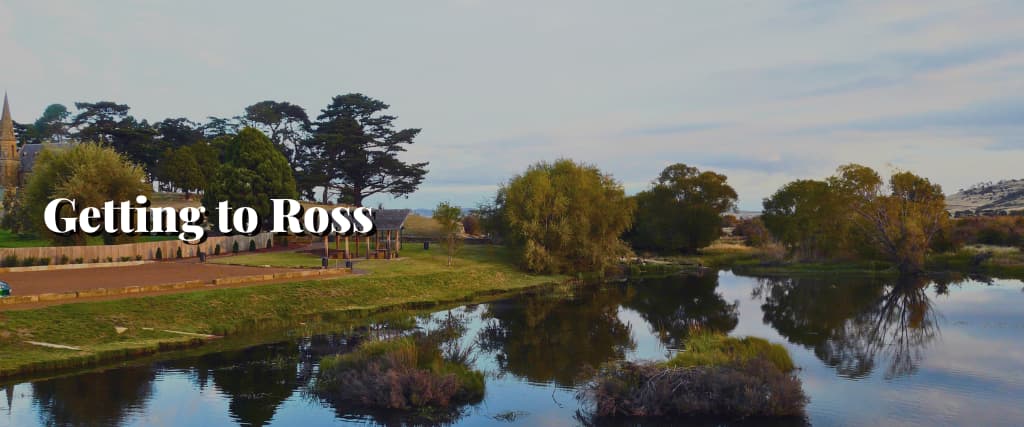 Overall, Ross in Tasmania is a pretty easy village to get to. Here is how to do it.
By Air
The nearest major airport to Ross is Launceston Airport (LST), located about 95 km away. From the airport, you can rent a car or take a bus to reach Ross. Launceston Airport has domestic flights connecting to major Australian cities, making it a convenient entry point for travellers.
By Road
Most visitors to Ross opt for a road trip, allowing them to explore Tasmania's scenic countryside along the way. Here are some driving routes to Ross from popular locations:
From Hobart: Ross is around 125 kilometres from Hobart. Take the Midland Highway (A1) north and you'll reach Ross in about 1.5 to 2 hours.
From Launceston: Ross is around 95 kilometres from Launceston. Take the Midland Highway (A1) south and you'll arrive in Ross in about an hour.
From Devonport: If you're arriving in Tasmania via the Spirit of Tasmania ferry in Devonport, Ross is about 200 kms away. Take the Bass Highway (A1) south and you'll reach Ross in about 2.5 to 3 hours.
Remember that Tasmania's roads can be winding and narrow, so drive carefully and be prepared for changing weather conditions, especially in the cooler months.
When to Visit Ross
The best time to visit Ross largely depends on your preferences in terms of weather, your budget for accommodation and what you hope to experience whilst you are there.
Generally speaking, summers (December to February) in Ross are pleasantly mild, making it an ideal season for outdoor activities, exploring the village and attending events like the Ross Village Fair. However, accommodation tends to be at its most expensive at this time as it is peak tourist season.
For many visitors, the autumn months of March to May are a great time to visit. The season brings cooler temperatures and stunning foliage, creating a picturesque setting for photography.
Likewise, spring (September to November) is another excellent season in Ross as it is resplendent with blooming flowers and milder weather – making it a lovely time for leisurely walks and immersing yourself in the natural beauty of the area.
Although winter between the months of June to August are cold, Ross takes on a cosy and quiet charm at this time of year, perfect for enjoying comfort food by a fireplace and appreciating the historic ambience. You'll also find accommodation is at its cheapest.
Overall, you should choose the season that best aligns with your weather preferences, budget, interests to ensure you fully embrace the unique charms Ross has to offer throughout the year.
Where to Stay
Ross offers a range of accommodation options to suit different budgets and tastes. So, whether you're looking for a charming historic inn or a cosy cottage, you'll find something to make your stay comfortable and memorable.
Accommodation Options Overview
Ross Motels: Affordable and convenient, motels are a popular choice for budget-conscious travellers. Look for options like the Ross Motel or Ross Caravan Park.
Historic Inns: Immerse yourself in Ross's history by staying in one of its charming inns. The Man O' Ross Hotel and Ross B&B are excellent choices.
Cottages and Holiday Homes: If you prefer a self-catering option, consider renting a cottage or holiday home. These offer more privacy and are great for families or groups.
Caravan and Camping Sites: Ross has camping and caravan facilities for those who enjoy a more rustic experience. The Ross Caravan Park provides a beautiful setting for camping enthusiasts.
Top Picks
Ross Motel: This budget-friendly option offers clean and comfortable rooms. It's a great choice for travellers on a tight budget.
Ross Bakery Inn: A delightful boutique inn with comfortable rooms and an attached bakery, known for its delicious pies and pastries. Be sure to try their famous scallop pies and freshly baked bread.
Colonial Accommodation: If you want to immerse yourself in Ross's history, consider staying at one of the colonial-style accommodations, such as The Man O' Ross Hotel or The Colonial Cottages of Ross. These places offer a unique experience in historic settings.
Holiday Cottages: For families or groups, holiday cottages like Ross Cottage or Elm Trees Accommodation provide spacious and well-equipped lodgings with a touch of rustic charm.
Ross Caravan Park: Camping enthusiasts will appreciate the serene surroundings of the Ross Caravan Park. It's an excellent place to connect with nature while still having access to basic amenities.
Remember to book your accommodation well in advance, especially during the peak tourist seasons, to secure your preferred choice.
Things to Do in Ross
Ross may be a small village, but it offers a range of activities and attractions that will keep you entertained during your visit.
Explore the Ross Bridge
The Ross Bridge is one of Tasmania's most iconic landmarks. Built by convicts in 1836, it's renowned for its beautiful sandstone carvings, including intricate reliefs of flora and fauna. Take a leisurely stroll across this historic bridge and admire the craftsmanship of the past.
Discover the Ross Female Factory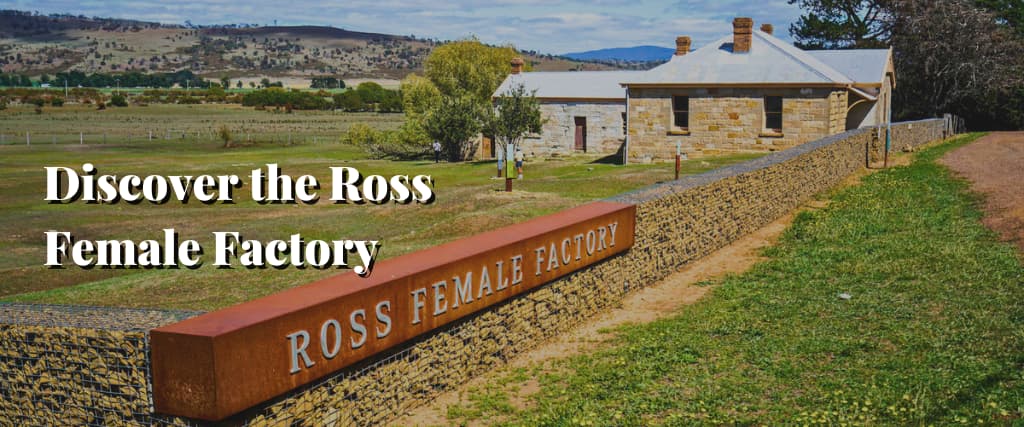 Ross is home to one of Australia's most significant female convict sites, the Ross Female Factory. Join a guided tour to learn about the harsh lives of female convicts in the 19th century and gain insight into Australia's colonial history.
Visit the Tasmanian Wool Centre
Tasmania has a rich history of sheep farming and the Tasmanian Wool Centre in Ross showcases the island's wool industry. Explore exhibits on sheep farming, wool production and the cultural significance of wool in Tasmania. Don't forget to browse the gift shop for locally made wool products.
Stroll Through Ross Village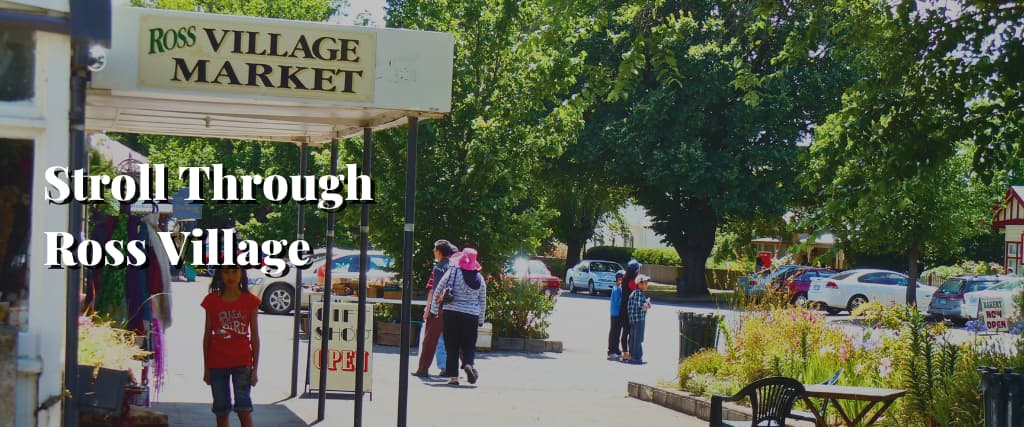 The village itself is a delight to explore. Wander along its charming streets lined with historic buildings, including the Old Post Office, the Catholic Church and the Ross Hotel. Ross's well-preserved colonial architecture provides ample opportunities for photography.
Outdoor Adventures
Ross is surrounded by scenic landscapes that invite outdoor enthusiasts. Here are a few options:
Bushwalking: Lace up your hiking boots and explore nearby trails like the Ross Village Circuit Walk or
venture further to the Ross Common Reserve for more extensive hikes.
Fishing: The Macquarie River, which runs through Ross, offers excellent fishing opportunities. Cast a line and try your luck at catching trout or other freshwater species.
Picnicking: Pack a picnic and head to the picturesque Ross Recreation Ground. It's a tranquil spot for enjoying a meal amidst nature.
Where to Eat
In Ross, Tasmania, dining options may be limited due to the village's size, but there are some notable venues where you can enjoy delicious meals and local specialties. Here are a few places to eat in Ross:
Ross Bakery Inn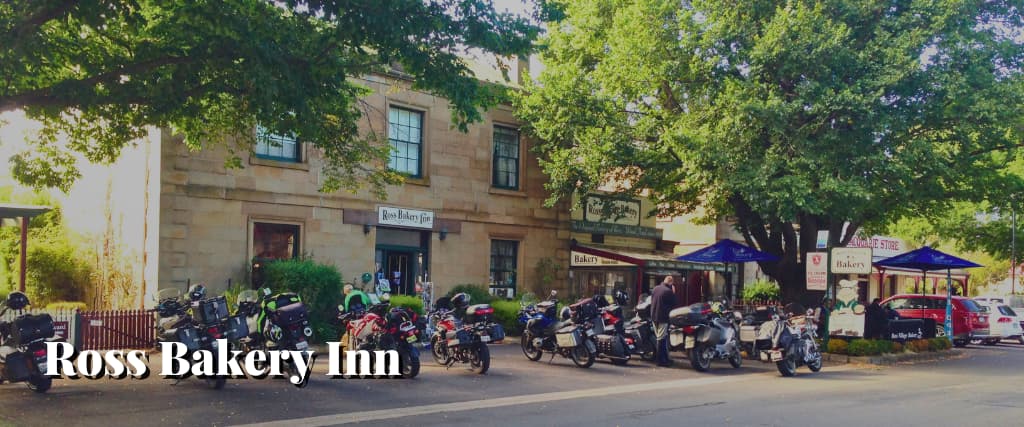 Ross Bakery Inn is an iconic establishment renowned for its mouthwatering pies, pastries and traditional bakery items. The historic building exudes charm and offers a cosy atmosphere for dining.
Most Popular Dishes:
Scallop Pie: A must-try specialty, the scallop pie features tender scallops in a creamy sauce encased in flaky pastry.
Beef and Mushroom Pie: Savoury and hearty, this pie is filled with succulent beef and flavourful mushrooms.
Freshly Baked Bread: Don't miss the opportunity to enjoy their freshly baked bread, perfect with local cheeses or jams.
Additional Information
The bakery also serves coffee, sandwiches and a variety of sweet treats like vanilla slices and fruit tarts.
Man O' Ross Hotel
Located in a historic building that exudes colonial charm, the Man O' Ross Hotel offers a warm and inviting dining experience. The pub-style restaurant provides an intimate atmosphere with a fireplace.
Most Popular Dishes
Fish and Chips: Enjoy perfectly battered fish served with crispy chips, a classic pub favourite.
Steak: The menu often features various steak options, cooked to your liking and accompanied by
sides.
Tasmanian Craft Beers: Quench your thirst with a selection of local Tasmanian craft beers.
Additional Information
The restaurant prides itself on using local Tasmanian produce, ensuring fresh and flavourful dishes.
Local Eateries
While Ross primarily has a few dining options, you might also come across local cafes and eateries that offer homemade dishes and snacks. These can be excellent choices for a quick meal or coffee while exploring the village.
Most Popular Dishes: The menus at these places may vary, but you can often find sandwiches, soups, quiches and cakes, all prepared with a homemade touch.
Please note that dining hours in Ross may be limited, especially during weekdays and offseason periods. It's a good idea to check the opening hours and make reservations, if possible, to ensure a pleasant dining experience during your visit to Ross.
Nearby Attractions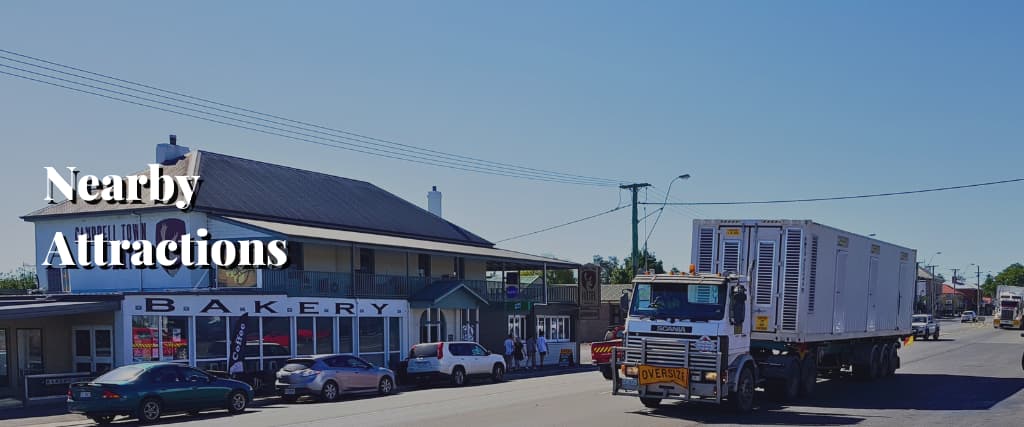 While Ross itself offers plenty to see and do, there are also nearby attractions worth exploring during your visit.
Campbell Town
Just a short drive from Ross, Campbell Town is another historic town with a rich colonial heritage. Highlights include the Campbell Town Convict Bridge and the Gravelly Beach Conservation Area, where you can enjoy a riverside picnic.
Launceston
If you have more time, consider taking a day trip to Launceston, Tasmania's second-largest city, which is about an hour's drive from Ross.
Launceston offers a range of attractions, including the stunning Cataract Gorge, the Queen Victoria Museum and Art Gallery and various dining and shopping options.
Conclusion
Ross in Tasmania, offers a captivating blend of history, natural beauty and culinary delights.
Whether you're interested in exploring convict heritage, enjoying outdoor adventures, or simply relaxing in a quaint village, Ross has something for everyone.
Just remember to plan your visit according to your accommodation budget and the season, and you're sure to have an unforgettable experience in this charming Tasmanian gem.