Mudgee is a charming town in Central West New South Wales that boasts a rich history, breathtaking scenery, and a thriving food and wine scene.
With more than 40 wineries and cellar doors dotted around its landscape, it's a popular destination for wine lovers, thanks to its cool-climate varietals. However, Mudgee isn't just for oenophiles. It's also a foodie's paradise, offering various dining options for all tastes and budgets.
From award-winning restaurants to casual cafes, there's no shortage of delicious food and drink to be enjoyed in Mudgee.
If you are planning a visit to the town or currently live there and want a recommendation for somewhere new to go, in this article, we will showcase the best culinary options this beautiful part of New South Wales presents you with.
Breakfast
They say breakfast is the most important meal of the day. Well, in Mudgee, you are well covered for it.
In town, there is no shortage of fantastic breakfast options to choose from. So, whether you're in the mood for a classic breakfast with eggs and bacon, a healthy bowl of granola, or a decadent French pastry, Mudgee's breakfast scene has something for everyone.
Here are some of the best places to enjoy your first meal of the day.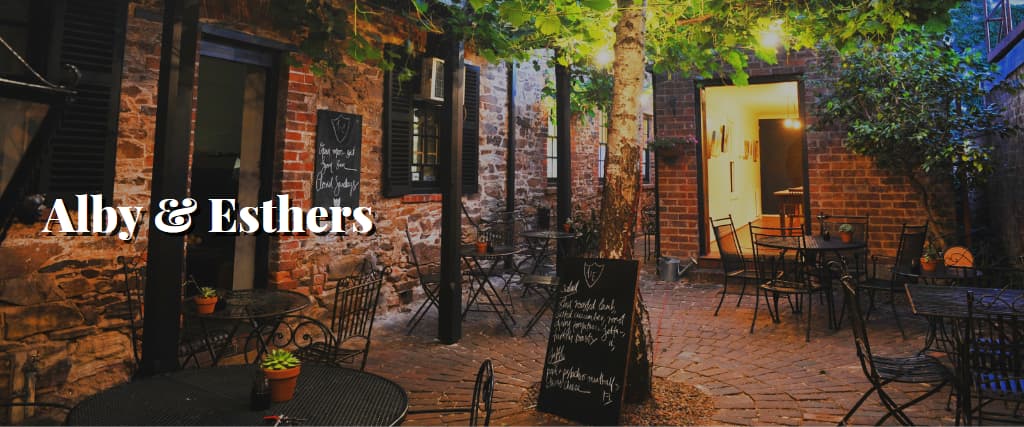 Alby & Esthers
Alby & Esthers is a true gem of a cafe located at Market Street in the heart of Mudgee.
Quietly residing at the end of a vine-covered alleyway within a historic stone terrace that dates back to 1873, this cosy venue offers a great way to stay your day.
With a focus on simple and satisfying comfort food, they serve up delicious meals that pair perfectly with their locally-roasted coffee.
Try their signature jaffle, which comes with smoked, locally sourced ham, Swiss cheese, organic free-range egg and a delicious tomato relish – a must-try for any visitor to Mudgee.
While it might be a bit too early for some, the cafe is also known for its excellent selection of wines, 40% of which feature a local label. So you may want to pop in here later in the day for a nice cheeky white, red or rosé.
Address: 4/61 Market Street, Mudgee NSW 2850
Phone: (02) 6372 1555
Website: www.albyandesthers.com.au
Mudgee Markets
If you happen to be in town on the third Saturday of the month, don't miss the chance to visit the fantastic Mudgee Markets.
These markets are held on the beautiful grounds of Robertson Park and are open rain or shine. (If it's raining, you'll find them in the hall).
Be sure to bring your appetite, as many stalls feature artisanal goods and fresh farm produce. You can try a delicious egg and bacon roll made with Farmer Brown Eggs and Free Range Putta Bucca Pork or stop by High Valley Cheese for some tasty feta, Colly Blue, and Caerphilly cheeses. For those with a sweet tooth, you won't want to miss Spencer's Cocoa Chocolate, a locally made single-origin chocolate from Vanuatu, available in 72% dark and milk cocoa varieties.
All of the products at the market are made, grown, caught, reared or produced by the stall holders. In addition to food stalls, the market has live musicians performing and is a terrific place to meet the locals.
Address: 2 Short Street, Mudgee NSW 2850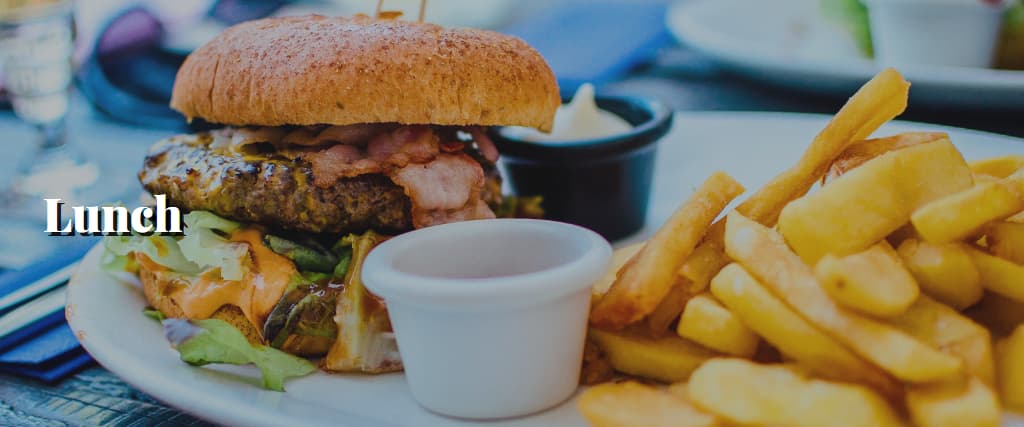 Lunch
After a morning of exploring the town's scenic vineyards, museums, and galleries, you'll likely want something to eat.
Luckily, Mudgee's lunch scene has something for everyone. Here are some of the best places you should visit.
Elton's Eating & Drinking
If you are after a chic and laid-back dining spot in Mudgee? Look no further than Elton's Eating & Drinking.
Housed in the beautifully renovated Elton's Pharmacy building (dating back to 1896), this contemporary eatery boasts a delightful menu for you to enjoy. You can choose from tacos, bite-sized appetizers, and other sides from the sharing plate menu or plump for a single-plate meal like their delicious pork belly popcorn.
The portion sizes are significant, and the venue has various seating options, including its main bar, al fresco courtyard, and the sun-kissed footpath that resides out the front, where you can dine. You'll also get your food pretty quickly along with service with a smile.
Address: 81 Market Street, Mudgee NSW 2850
Phone: (02) 5300 2275
Website: www.eltons.com.au
Pipeclay Pumphouse
Fancy an authentic farm-to-table dining experience whilst in Mudgee? Then, look no further than Pipeclay Pumphouse.
This charming restaurant is at the Robert Stein Vineyard, just under 12 km from the CBD. Sourcing ingredients directly from its farm, most herbs and vegetables are grown onsite. At the same time, they raise their chicken, sheep and cattle there too.
Not only do they offer an excellent dinner menu, but their long lunch menu is also noteworthy. It comprises a six-course degustation that features the likes of salmon tartare with lemon, a delightful charcuterie, short beef rib, duck gnocchi with a mushroom ragu and a zesty lemon sorbet, which is sure to leave you feeling satisfied.
You can also pair your meal with wines from the Robert Stein Vineyard, which is located near the venue, for an additional charge.
Address: Pipeclay Lane, Budgee Budgee NSW 2850
Phone: (02) 6373 3998
Website: www.pipeclaypumphouse.com.au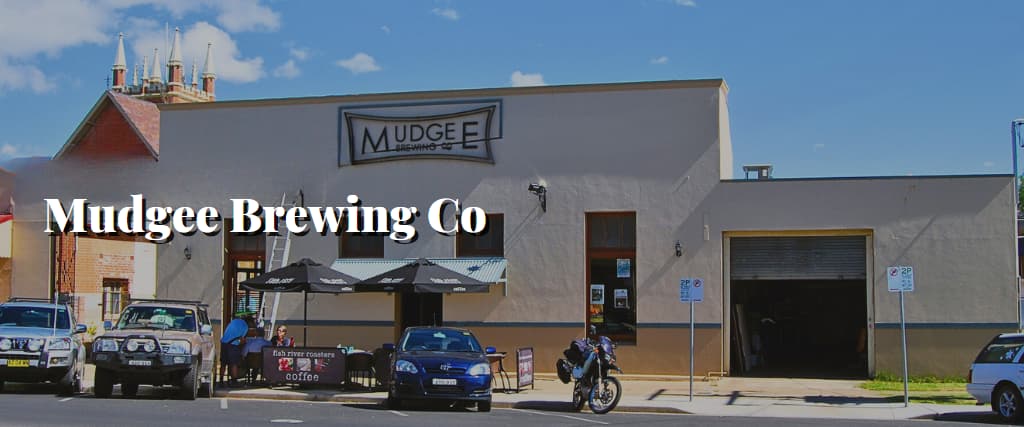 Mudgee Brewing Co
When it comes to brewery food, it often goes one of two ways. You can usually expect either unremarkable pub grub or upscale regional cuisine. Luckily, Mudgee Brewing Co. offers the latter.
Established in 2007 by Gary Leonard, a former coal miner, this microbrewery is the only one in Mudgee. It has been a local favourite ever since.
Previously housed in a century-old wool store, Mudgee Brewing Co. offers eight different craft beers on tap and an excellent food menu with options ranging from pizzas and beer snacks to sophisticated mains such as prawn pasta, mussels and duck confit.
For those who prefer traditional pub food, their burgers, fish and chips, schnitzels and chicken wings will not disappoint. Diners can also enjoy live music and table service, adding to its ambience.
Address: 4 Church Street, Mudgee NSW 2850
Phone: (02) 6372 6726
Website: www.mudgeebrewing.com.au
The Zin House
The Zin House is a well-known restaurant which is one of the main reasons why Mudgee has become recognised as a top regional destination for food and wine.
Located at Lowe Wines, about 9 km north of town, it recently reopened after a brief closure. It is now bigger and better than ever!
Owner and chef Kim Currie has reworked the menu to feature locally sourced ingredients from the Zinfandel paddock and orchard that resides on the property, in addition to other local producers.
Offering an exceptional regional and dining experience, every dish is made from scratch via traditional methods, ensuring a fresh and authentic experience. The menu changes seasonally, but some previously offered dishes include tinja beef and pasta pappardelle. To fully enjoy the experience, we recommend booking a long lunch and pairing your meal with a selection of estate and locally produced wines.
Address: 329 Tinja Lane, Eurunderee NSW 2850
Phone: (02) 5858 4026
Website: www.lowefamilywineco.com.au
Dinner
The dinner scene in Mudgee is a source of immense local pride. Whether you are out for a romantic meal with your partner or a weekly catch-up with family or friends, here are some of the best places to dine for your evening feed.
Isabella's Trattoria
Isabella's Trattoria has a sign that reads 'food you've been looking for', which is apt because the cuisine there is sensational.
Offering an unforgettable Italian dining experience, the restaurant's maroon cloth awnings and pleasant decor create a welcoming atmosphere before you enter. The friendly staff will instantly make you feel at home too.
The restaurant presents an excellent menu of sophisticated European dishes, and while you wait for your order, you can watch the chefs preparing it from the open-plan kitchen.
Try their garlic prawns, seafood pasta and risotto and pair it with a fabulous wine from their extensive list. If you have any room left, their signature Tiramisu is a popular choice for dessert.
Address: 52 Market Street, Mudgee NSW 2850
Phone: (02) 6372 2120
Facebook: www.facebook.com/isabellastrattoriamudgee
Roth's Wine Bar
For a cracking evening meal experience, head to Roth's Wine Bar.
Located within a historic building that was originally a general store, it was turned into a wine bar in 1923 by Robert Roth, who would serve drinks to farmers parched after a long day of work.
Staying true to its roots, it offers a wide selection of more than 100 different regional and local premium wines today. To keep things fresh, the wine list alters every two weeks to highlight several different options from the nearby central ranges.
Along with its range of wines, the bar also offers several craft beers and a range of top-notch eats like tapas, pizzas, charcuterie boards and cheese, making it an ideal spot for a relaxed and carefree evening out whilst in Mudgee.
Address: Mudgee Home Decor, 30 Market Street, Mudgee NSW 2850
Phone: (02) 6372 1222
Website: www.rothswinebar.com.au
Palate Restaurant
At Palate restaurant, you can enjoy a fusion of Italian and modern Australian cuisine with a Mediterranean twist.
Situated within the Aden Hotel Mudgee, this lovely venue offers an eclectic menu that includes T-bone steaks, coconut sesame prawns, veal saltimbocca, pizzas, pasta, and seafood.
Whether you prefer a casual poolside BBQ or a more upscale dining experience in the contemporary dining room, Palate is the perfect spot to enjoy your evening meal after exploring Mudgee's wineries.
The service is fast, the portion size is very generous, and the staff are friendly and attentive.
Address: Aden Hotel Mudgee, 1 Sydney Road, Mudgee NSW 2850
Phone: (02) 6372 1122
Website: www.palatemudgee.com.au
Drinks
Mudgee is not only known for its delicious dining options but also for its casual drinking venues.
As previously mentioned, wine lovers can enjoy the local drops at Alby & Esthers, Elton's wine bar and Roth's. While if you're after a more relaxed atmosphere, Cade Bar and Kitchen has rustic brick walls that are artfully exposed and homely timber furnishings.
For a classic pub experience, Club Mudgee is a very most popular venue. At the same time, The Courthouse Hotel presents a terrific, leafy beer garden, and Kelly's Irish Pub is a great spot for Guinness.
Lastly, but most certainly not least, any visit to Mudgee would only be complete with a trip to a winery or cellar door. The likes of the Moothi Estate, First Ridge wineries and Logan Wines are some of the best-known ones to go to.