Nestled in the heart of New South Wales, Orange is a charming country town that offers visitors a unique blend of natural beauty, cultural heritage, and world-class cuisine. With its rolling hills, picturesque vineyards, and vibrant community, it is a popular destination for those seeking a relaxed and authentic Aussie experience.
One of the main draws of Orange is its reputation as a wine and food destination. This is a region that is home to more than 80 vineyards and wineries, which collectively produce some of Australia's best cool-climate wines. Visitors can take a wine tour and sample several varietals, ranging from crisp whites to full-bodied reds while enjoying the stunning scenery of the surrounding countryside. In addition to its wine, the region is known for its fresh, locally-sourced produce and has a thriving culinary scene that boasts a selection of award-winning restaurants, cafes and markets.
Beyond its food and wine offerings, Orange also possesses a rich history and culture. At the forefront of it is a strong and proud Aboriginal heritage, which visitors can learn about at the fascinating Orange Regional Museum. The town also has a strong European heritage, accommodating many buildings that date back to the 1800s and is also home to several art galleries and admirable cultural institutions.
For those who love the outdoors, the town provides plenty of opportunities for exploration and adventure. The nearby Mount Canobolas State Conservation Area has numerous hiking trails to explore, each of which showcases picturesque views of its diverse terrain. While the shimmering waters of Lake Canobolas are a popular spot for fishing, boating and picnicking.
A terrific place to visit all year round, whatever you are looking for in a travel destination, Orange provides it to you in spades.
Best Time to Visit Orange
The best time to visit Orange is very much dependent on what type of tourist experience you are looking for.
As far as the weather is concerned, the town, like many places in the more rural parts of NSW, does experience distinct seasons, with cold and sometimes snowy winters, and hot summers.
For this reason, the period between March to May (Autumn) and September to November (Spring) are considered by many people to be very good times to visit. At these times, the weather is mild, and the landscapes are transformed into a stunning display of colours, with trees shedding their leaves or blooming with wildflowers.
The warm days and cool nights also make it the perfect time for outdoor activities like hiking, cycling, and wine tasting. Indeed, some of the region's main events, including The Orange Wine Festival and the Orange Country Music Festival, take place during these times.
That said, winter (June to August) can also be a magical time to visit, giving tourists the chance to experience snow-covered landscapes, cosy fireplaces, and winter festivals. Summers (December to February) can be hot and dry – although you can get the occasional thunderstorm – which renders it a good time to enjoy the region's many lakes and waterways.
Regardless of when you choose to visit it though, Orange has something to entice and enthral visitors all year round.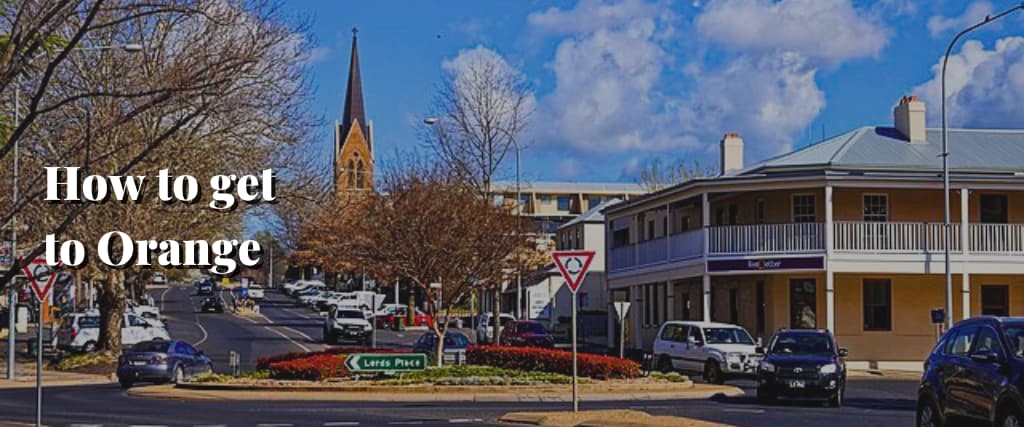 How to get to Orange
There are several ways to get to Orange, depending on your location and available modes of transport.
By car, Orange can be reached from a 3.5-hour drive from Sydney, a 5.5-hour drive from Canberra or an 8-hour drive from Brisbane, via its most direct routes. Although several longer, more scenic routes including the Bells Line of Road or the Great Western Highway can also be taken.
For those who do not have a car, regular bus services are operated from Sydney and Canberra, by Greyhound Australia and NSW TrainLink. The journey takes around 4.5 hours from Sydney and 6 hours from Canberra.
Alternatively, you can take a train to the nearby city of Bathurst, which is roughly a 45-minute drive from Orange, and then take a bus or taxi there. The train journey from Sydney takes about 3.5 hours, and the station is located in the heart of Bathurst, which itself is a nice place to visit.
Things to do in Orange
Orange is a charming town that offers a wide range of activities and attractions for visitors to enjoy. Here are some of the main things you can see and do there:
Local and indigenous heritage and attractions
Orange has a rich indigenous history that dates back over 40,000 years. The Wiradjuri people are the traditional custodians of the land, and their culture and heritage are proudly celebrated today in the town.
The Orange Regional Museum on Byng Street is an excellent place to learn about the Wiradjuri culture and history. Its museum has a collection of artefacts, stories, and interactive exhibits that showcase its people's connection to the land and their traditions. Visitors can learn about the significance of Dreamtime stories, bush tucker, and traditional hunting and gathering practices.
As well as the museum, there are several other places near Orange that celebrate the indigenous heritage of the region. The Yuranigh's Aboriginal Grave Historic Site is a significant site that commemorates the life of Yuranigh, a Wiradjuri warrior and leader who worked with the explorer Sir Thomas Mitchell during his expeditions in the 1800s. The site is about 32 km from Orange and includes a memorial, interpretive signage, and a walking track that leads to the historic grave.
There are also several natural attractions near Orange that showcase the region's beauty and biodiversity. The Mount Canobolas State Conservation Area is a popular spot for hiking and wildlife spotting, featuring plenty of walking tracks that offer stunning views of the surrounding countryside. The conservation area is about a 20-minute drive from the CBD. It is home to a number of endangered plant species and is a critical habitat for several animal species, including the brush-tailed rock wallaby.
The Lake Canobolas Reserve is another popular attraction, located just a 10-minute drive from
Orange. It is a picturesque spot for fishing, boating, and picnicking and possesses several BBQ areas and picnic tables. You will also find a handful of walking trails here that lead around the lake and convey comely views of the surrounding hills.
Wineries
Orange is one of Australia's most exciting wine regions. Its cool climate, high altitude, and unique soil types make it an ideal location for growing grapes that produce high-quality wines.
Overall, there are over 80 vineyards and wineries in the area. Many of them offer food and wine pairing experiences, where visitors can enjoy a selection of local cheeses, cured meats, and other gourmet treats alongside their wines.
One of the most popular wineries in Orange is Philip Shaw Wines, located just outside the town centre. Philip Shaw is a renowned winemaker who has won numerous awards for his wines. Visitors can enjoy a tasting through the winery's stylish cellar door or take a guided tour of the vineyards and winery.
Another popular winery is Ross Hill Wines. It is a highly accomplished family-owned winery that produces a range of premium wines, including Chardonnay, Shiraz, and Pinot Noir. Like Philip Shaw Wines it offers tours of its vineyard and facilities and has a modern cellar door that is open for tastings.
De Salis Wines is another highly regarded winery in the region. A boutique winery, it produces small-batch wines using traditional techniques and runs a rustic cellar door that overlooks the picturesque vineyards and surrounding hills.
Other notable wineries in the Orange region include Brangayne of Orange, a historic winery that produces a range of award-winning wines, and Borrodell Estate, which also has a restaurant, café, and luxury accommodation.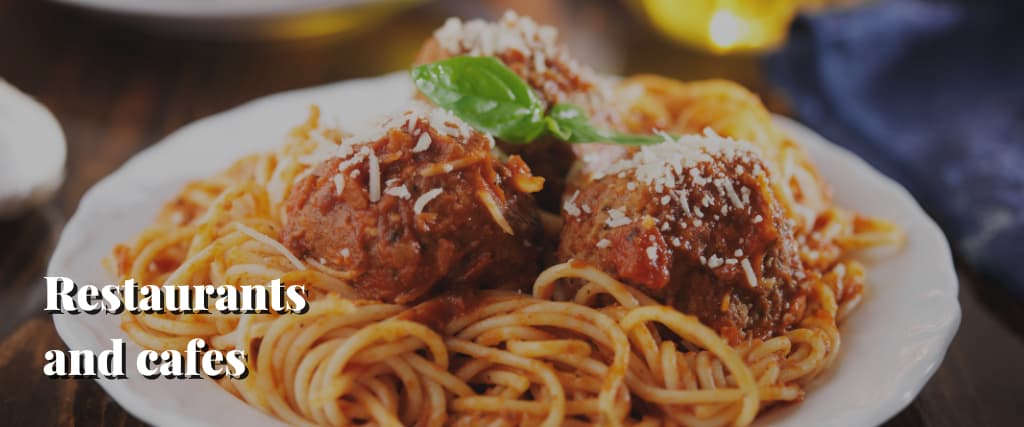 Restaurants and cafes
Orange is a food lover's paradise, offering a unique blend of local produce, gourmet food, and fine dining experiences. The region is renowned for its cool-climate wines, locally grown fruit and vegetables, and artisanal cheeses and chocolates.
One of the best ways to experience Orange's foodie scene is by visiting the local farmers' markets. The Orange Farmers' Market is held every second Saturday of the month and is a great place to sample some of the region's freshest produce, including fruit and vegetables, artisanal bread, and homemade jams and preserves.
Another highlight of Orange's foodie scene is its many farm-to-table restaurants. Most of these restaurants champion locally grown produce and often feature a changing menu based on what's in season. Some of the most popular farm-to-table restaurants in Orange include Racine Restaurant, which offers a modern French-inspired menu, and Lolli Redini, which specialises in elevated Italian cuisine.
For those who prefer a more casual dining experience, there are plenty of cafes and wine bars in the town that serve up a delicious selection of gourmet treats. The Agrestic Grocer is a popular spot for brunch, offering a nice menu of locally sourced produce, artisanal bread, and coffee. The Union Bank
Wine Bar is another popular spot that presents a range of wines from the local region alongside gourmet cheese and charcuterie boards.
Additionally, there are also several food and wine festivals held in Orange throughout the year, including the Orange Wine Festival and the F.O.O.D Week Festival. These festivals give attendees the opportunity to sample some of the region's best wines and gourmet food, meet local producers, and attend cooking demonstrations and workshops.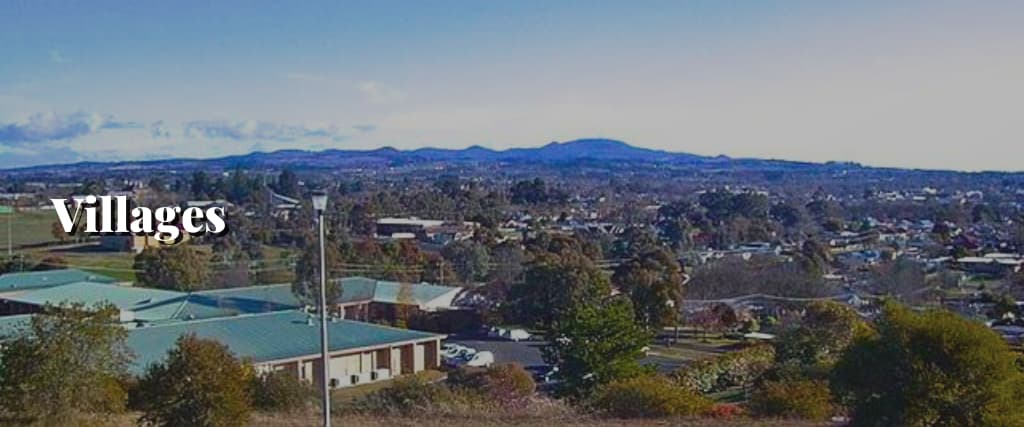 Villages
Orange is surrounded by several charming villages that offer a glimpse into the region's rich history, architecture and natural beauty. Once you have visited the main sights and attractions in Orange, there are several other lovely places you might want to check out.
Located just a 20-minute drive away, Millthorpe is a beautifully preserved 19th-century village that features heritage buildings, antique stores, and charming cafes. The village is surrounded by picturesque countryside, making it a great spot for a relaxing day trip.
Nearby, Canowindra is another agreeable place to head to. Known as the 'ballooning capital of Australia', it is a historic village with a vibrant arts scene, boutique shops and several dining options. Visitors can take a hot air balloon ride over the stunning landscape, explore the local galleries and museums, or simply relax and enjoy the town's laid-back atmosphere.
Blayney is another picturesque village you might want to check out. It is about a 30-minute drive from Orange and boasts a collection of intriguing sites. One of which, the Blayney Wind Farm is one of the largest wind farms in the Southern Hemisphere. Visitors will also find some lovely parks here as well as a nice market.
About a 40-minute drive from Orange, the historic village of Carcoar is another gorgeous place to visit. If you head there, you will be able to stroll through its wide, tree-lined streets, admire its charming sandstone buildings and learn about the town's fascinating history at its local museum.
Scenic Drives
Orange resides in a landscape of stunning natural beauty, and there are several scenic drives that offer a chance to explore the region's picturesque landscapes.
One of the most popular of them is the Borenore Trail, which takes you through the stunning Borenore Karst Conservation Reserve, which is home to a range of unique flora and fauna. The trail winds through rugged sandstone cliffs and picturesque valleys, with plenty of opportunities for hiking and birdwatching.
Another terrific course to take is the Cargo Road. This scenic drive takes you through the picturesque countryside around Orange, passing through a collection of charming villages, rolling hillsides, and peaceful farmlands. This is a great drive for oenophiles or foodies as you can stop off at numerous wineries, farm gates, and local produce stores along the way.
If you like beautiful forests and rolling hillsides, Mount Canobolas Road is another pleasant option. It will take you to the top of Mount Canobolas from which you will be able to enjoy exceptional panoramic views of the region. You will also be able to go hiking and picnicking at various points throughout it as well.
For those going to or coming from Bathhurst, The Eastern Heritage Trail follows the path of early explorers and pioneers. The drive passes through various villages and historic landmarks and has several Insta-worthy photo spots.
Alternatively, the Molong to Dubbo route is somewhere else you might want to drive between. It will guide you on a path through picturesque valleys and undulating hillsides, while showcasing several notable sites, including the Taronga Western Plains Zoo.
Arts, Community & Culture
Orange has a vibrant arts scene, with several galleries and museums that showcase the region's rich cultural heritage, natural history and contemporary art scene.
If you are an art lover, then you must visit The Orange Regional Gallery. It features a range of contemporary Australian and international art exhibitions, as well as a collection of works by local artists. The gallery also offers several programs and events, including artist talks, workshops, and children's activities.
The Corner Store Gallery is another popular spot for art lovers. This contemporary art space showcases works by emerging and established artists from the local region and beyond. Throughout the year it also hosts regular exhibitions and events, including markets and workshops.
For those interested in local history, the Orange Regional Museum is also worth a visit. There you will get a greater understanding of the rich history and culture of the region through exhibits that highlight the Wiradjuri people, the gold rush era, and the region's agricultural heritage.
Located just outside of Orange, in the town of Canowindra, The Age of Fishes Museum is one of the more captivating museums you can visit in the area. It features an incredible collection of fossil fish specimens that were discovered in the area, including some of the oldest known examples of fish in the world. The museum also has interactive exhibits and activities that make it a fun and educational destination for all ages.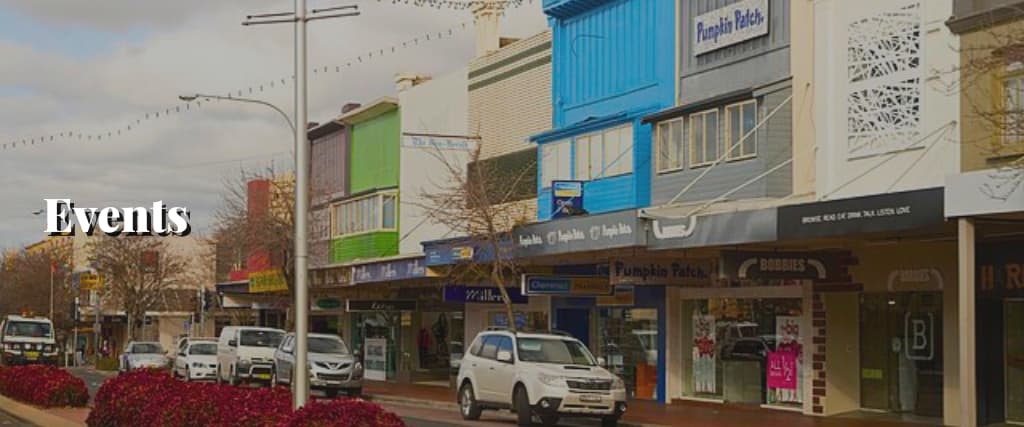 Events
Throughout the year, Orange runs a diverse and vibrant calendar of festivals and events for visitors to enjoy. These events showcase the region's unique culture and traditions and attract attendees from all over Australia.
One of the main events in the region is the Orange F.O.O.D Week. This is a premier food and wine festival that is held annually in late March. The festival features a range of events, including long lunches, winery tours, cooking demonstrations, and tastings that showcase the region's world-class produce.
Another must-visit event for wine lovers is the Orange Wine Festival. Taking place in October, it celebrates the region's highly acclaimed wines and hosts a range of events, including winery tours, tastings, and food pairings. Other notable features include the Orange Wine Show and the Vino Express, a unique train journey that takes visitors on a tour of the region's wineries.
Other major events in Orange include the Winter Fire Festival in August. This is a celebration of the winter season and features events such as bonfires, fire sculptures, and fireworks. The festival also incorporates a range of food and wine events, as well as live music and entertainment.
Additionally, the Orange Chamber Music Festival in March hosts live music performances, as well as country dance parties and bush poetry readings.
One of the most popular local events is the Millthorpe Markets. They take place on the first Sunday of April and December and take the form of over 230 stalls. Most of these are fresh produce related or local clothing and arts and crafts stalls, where you can often pick up some fabulous vintage finds.
In addition to these major events, there is also a range of smaller events and festivals held throughout the year, including art exhibitions and film festivals.
Shopping
For those into shopping, Orange provides some excellent options. From boutique and speciality stores to markets and artisanal craft makers, there are several places you can go to for some retail therapy.
One of the more notable destinations is the Orange Arcade, which is a historic and nostalgic arcade that houses a range of speciality stores including a bookstore, florist, jeweller, and toy store.
Another popular place to shop is at The Sonic. This eclectic store offers a unique selection of vintage and new clothing, as well as accessories and homeware. It also has a focus on sustainability and individuality and hosts regular events, including art exhibitions and live music performances.
Similarly, The White Place is a stylish homeware store that has a range of beautiful and unique products, from furniture and lighting to textiles and ceramics. The store also offers design services, making it a great option for anyone looking to redecorate their home.
If you are after fresh, locally sourced produce, the Orange Farmers Market is a fabulous place to check out. There you will find a wonderful selection of fruits, vegetables, meats, cheeses, bread, and other artisanal products to buy for a picnic or your evening meal.
Golf Courses
If you are into golf, there are several excellent golf courses in and around Orange you can play at. Between them, they offer a fabulous way to enjoy the region's stunning natural beauty while brushing up your game.
One of the best courses is the Duntryleague Golf Club. Situated in the heart of Orange, it is one of the oldest and most prestigious golf clubs in Australia. The course might be a challenge for some golfers, but it is set on a beautiful parkland estate which offers stunning views of the surrounding countryside.
Another excellent golf course near Orange is the Wentworth Golf Club. This tough standard 18-hole course conveys panoramic views of the region's picturesque landscapes. It is also sprawled across a stunning natural environment that facilitates plenty of opportunities to spot native wildlife.
A little further afield, the Forbes Golf Club is about an hour's drive from Orange. Set on the scenic banks of Lake Forbes, this fabulous course offers immaculate greens and fairways as well as hypnotic views of the water and surrounding countryside.
Also an hour away from Orange is the Cowra Golf Club. Nestled within the beautiful Cowra Valley, it prides itself on being the 'best course west of the Blue Mountains'. The 18-hole course features fairways that are fully irrigated kikuyu and also occasionally has kangaroos and wallabies hopping
about on them!
Pubs at Orange
It wouldn't be right to visit Orange without heading into one of its fabulous pubs.
Overall, Orange's pubs offer a warm and welcoming atmosphere, delicious food and drink options, and a range of live music and entertainment. Whether you're looking for a casual drink to mix with the locals or a night out to let your hair down, the rich pub culture of this charming country town will have something suitable for you.
Arguably the town's most popular pub is The Parkview Hotel, which has been a local institution since it opened in 1926. The pub features a terrific selection of beers on tap, as well as a range of dining options including a bistro, bar snacks, and an outdoor beer garden. The pub also regularly hosts live music and events and serves as the hub of the local community.
Located in the heart of the CBD, the Lord Anson is another popular spot for a casual drink or meal. Named after a British Royal Navy Officer, it has a casual pub-type ambience and features booths, a sports bar and tables for dining. As well as a big selection of craft beers and ciders, it also offers British-style cuisine including bubble and squeak, coronation chicken pasties and crumbed lamb.
Another iconic Orange pub is the Royal Hotel, which has been serving locals and visitors since the 1850s. Boasting a congenial atmosphere, the quintessential venue also presents a number of beers on tap as well as a modern food menu of favourites with a twist – think Mexican schnity and pork belly in honey soy sauce.
For a more stylish and sophisticated option, you may also want to pop into, the Union Bank Wine Bar. Located on Byng Street, it features a range of local and international wines, craft beers, and spirits to suit all tastes. You can also order gourmet bar snacks and small plates to accompany them.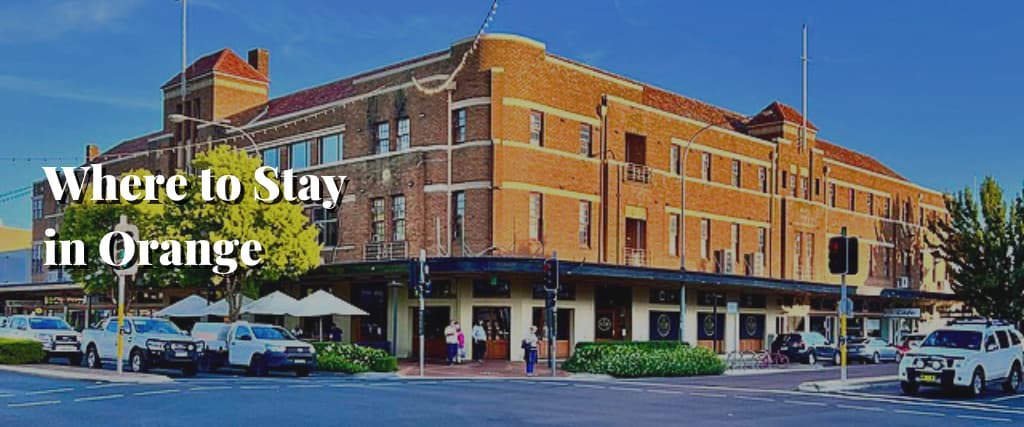 Where to Stay in Orange
For those needing a place to stay whilst visiting Orange, there are several accommodation options available to you. This includes hotels, B&Bs, holiday homes, and camping grounds, all of which suit different preferences and budgets.
If you fancy treating yourself to a luxurious hotel during your time in Orange, the de Russie Boutique Hotel is a very good option. It offers spacious and elegantly decorated rooms and suites, as well as a restaurant, bar, and outdoor terrace. Additionally, the hotel also has a spa and wellness centre for those who want to be pampered, which makes it the perfect place to relax and unwind.
Another more affordable, yet no less modern or stylish hotel, is the Mercure Orange. Situated on the outskirts of town it offers guests comfortable and well-appointed rooms and suites with a good range of amenities. It also has a top-notch restaurant and bar onsite for meals and entertainment, as well as an outdoor pool, fitness centre and sauna for those looking to relax and invigorate themselves.
Should you prefer to stay in a B&B, Orange has a number of decent options to choose from. One popular option is the Arancia Bed and Breakfast, which is just a 5-minute drive from the main town centre.
Charming and cosy, the property is situated in a quiet residential area, which is reached by driving
through a small orchard. It offers comfortable and spacious rooms, as well as a delicious breakfast made with locally-sourced produce. The B&B also has a beautiful garden and outdoor seating area, perfect for enjoying a cup of tea or coffee, especially at sunset when the sky is illuminated with brilliant colours.
If you can't get into Arancia, another good place to stay is The Cole House. This historic and elegant B&B is nestled in the heart of town and offers beautifully furnished rooms and suites, as well as a gourmet breakfast served in the dining room. It is also within walking distance of several of the town's pubs and restaurants.
In addition to B&Bs, Orange also has a number of holiday homes available. Two of the more popular options include Hillcrest House and the Warruga Shack.
Hillcrest House is a spacious and modern holiday home on the outskirts of Orange that features well-appointed rooms with comfortable beds. It also has a large outdoor deck and BBQ area which is perfect for cooking up some of the local food produce you buy.
Similarly, the Warruga Shack is a cosy and charming holiday home about a 15-minute drive from Orange. set on a 220-acre property, it features 3 bedrooms and 3 bathrooms and modern cool-rustic decor. It also showcases amazing views of the stunning surrounding landscape as well as some of the clearest night skies in the region.
For those who prefer to camp, there are two very good campgrounds near Orange that you should consider staying at.
One of the most popular is Canobolas Caravan Park, which is a peaceful and scenic camping ground on Bathurst Road. It offers a range of camping options, including powered and unpowered sites, cabins and villas. It also has a BBQ area, a dump point, and full laundry among its facilities.
Closer to town, Colour City Caravan Park is another excellent choice. It features a fabulous three-bedroom cottage, as well as 15 cabins that are fully self-contained. This caravan park is situated next to the showground and is within easy walking distance of the centre of town.
Conclusion
All things considered, Orange in NSW is a must-visit destination for anyone looking to experience the best of regional Australia.
With its stunning natural beauty, rich cultural heritage, world-class wineries and excellent foodie experiences, it doesn't matter what time of the year you visit, because it truly has something for everyone.